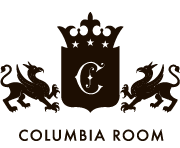 Tomorrow, I'm going to the Columbia Room for the first time and I'm really excited! What's the Columbia Room you ask? It's the coolest "cocktail club" in DC. If you're into fancy drinks, this is the place for you from what I've read and heard. (Read a review .)
The Columbia Room is the brain child of Derek Brown, a DC sommelier/mixologist star. My friend Katie has recently taken over the management position and I'm going to check out her new digs.
My intro to the fine art of mixology was with Katie when we visited the for the first time. When I heard reports of it's speak-easy atmosphere and intriguing cocktails, my curiosity was piqued. The drinks were amazing and I was hooked. Derek Brown was the man behind the beverages at the Gibson too. Coincidence? Nope. I think it's all part of his grand plan to put intricate cocktails on the culinary map.
Who knew that first cocktail would lead to a new career for Katie? As a former restaurateur, I always love when someone discovers the beauty of fine food and drink. I'm thrilled for her and I can't wait to experience the Columbia Room in all it's glory. Cheers!