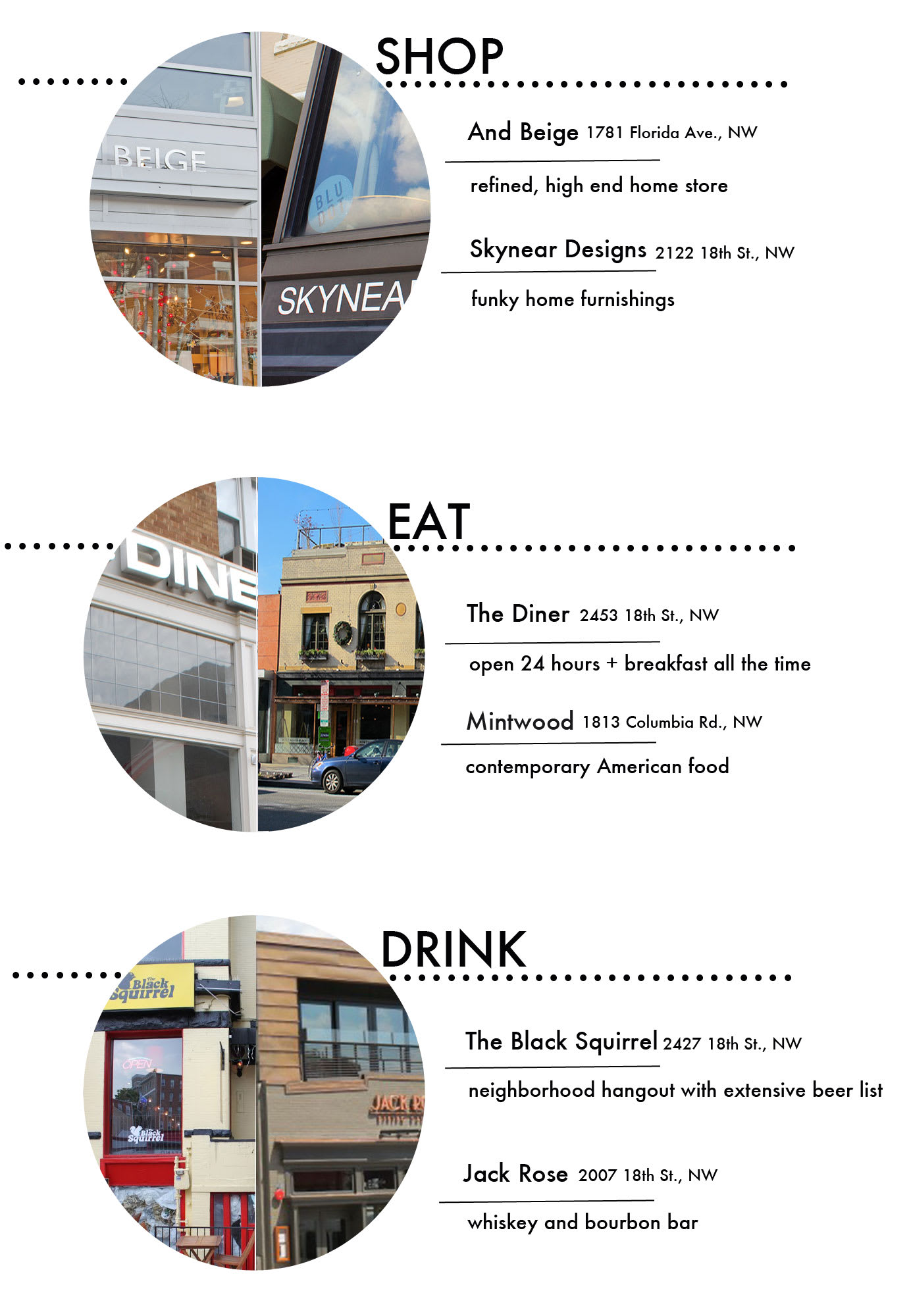 Adams Morgan is a neighborhood you love to hate. On the weekends, it's inundated with pleasure seekers and littered with the remnants of giant pizza slices. During the week, it's full of locals ready to enjoy a little peace and quiet. I lived in Adams Morgan for my first nine (gah..where has time gone?) years in DC and I loved it. Over the last few years, the landscape has changed. DC Gov recently revamped 18th St. and it has a clean, modern look. With it's proximity to the Metro and the National Zoo, it's still one of the most popular 'hoods in NW.


SHOP
at Skynear Designs and
And Beige
. These two stores couldn't be more dissimilar. Skynear is a riot of colorful, modern furniture. And Beige is…beige but in the best possible way. I fully expected to hate the store (I'm not a beige person) but it's full of beautiful furniture and accessories. You'll never look at beige the same way.
EAT
at
The Diner
and
Mintwood
. The Diner will always hold a special spot in my heart. I worked there part time the first years I lived in DC. It was a great way to meet people as a DC newbie. The food is basic but good. They make the best pancakes in town and they're open 24 hours. Mintwood is a new and welcome addition to Adams Morgan. They serve contemporary American food and it's delicious.
DRINK
at
The Black Squirrel
and
Jack Rose
. The Black Squirrel is the bar you want in every neighborhood. It's cozy, has a kick ass beer list and great service. Jack Rose is known for it's extensive whiskey list (over 1000) but it also serves yummy food and cocktails.