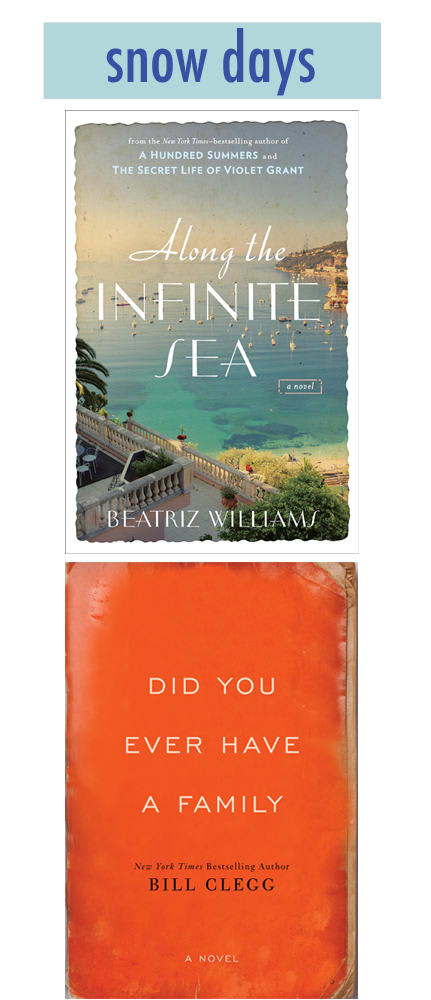 During our extended vacation in the Bahamas and Miami, there were a lot of cocktails and a lot of books. Out of the many books I read,
Did you ever have a family?
by Bill Clegg and
Along the Infinite Sea
by Beatriz Williams were my two favorites.
If you're looking for an uplifting, laugh out loud book, skip Bill Clegg's Did You Ever Have a Family? It's a tragic tale about losing your family. It's amazingly complex and beautifully written. It's Clegg's debut novel and it's included in the longlist for the Man Booker prize. It's a must read but prepared to be sad.
Along the Infinite Sea is the third book by Beatriz Williams about the fictional Shulyer sisters. Set in 1956, it's a historical novel that encompasses secrets from WWII, a rogue baby daddy and a love story. What more could you want?
Also read The Secret Life of Violet Grant and Tiny Little Thing about the other Shulyer sisters. Here's a few more I enjoyed: Pretending to Dance by Diane Chamberlain, Carry On by Rainbow Rowell, Career of Evil by Robert Galbraith, A Knight In Seven Kingdoms by George R. R. Martin, The Art of Crash Landing by Melissa DeCarlo, The Lake House by Kate Morton, The Bourbon Kings by J.R. Ward.
A note on some of the books that have been getting good press but I wasn't impressed: The Blondes by Emily Shultz, The Expatriates by Janice Y.K. Lee, All the Stars in Heaven by Adriana Trigiani, The Clasp by Sloane Crosely, Fates and Furies by Lauren Groff (I KNOW. I loved the Monsters of Templeton but I hated this book. Ugh.)
*a small moment of holy *&^%: Last year, I read 113 books on my digital devices and that doesn't include library books. Isn't that bonkers? You can tell my #1 pastime is burying my nose in a book.*