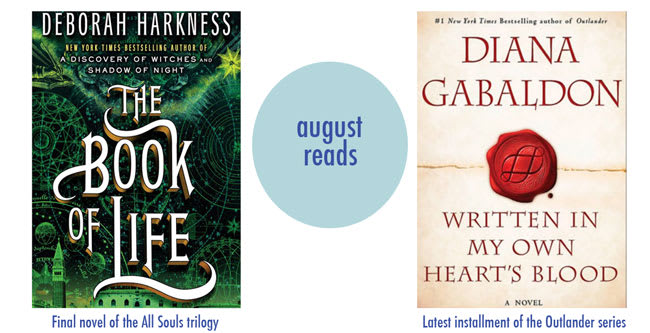 One of my favorite parts of traveling is uninterrupted reading time. For me, waiting to get somewhere is the perfect time to get lost in a novel. On the way back from NYC yesterday, I had 3 glorious hours to read. So.much.fun. (more on the trip to NYC tomorrow)
The Book of Life by Deborah Harkness is the final book in the All Souls trilogy. While I looooved the first two, this one wasn't as enjoyable. As the last in the series, it's wrapping up a lot of details and seemed rote. While I was happy to find out what happened with the characters, I was disappointed when it was over. Sigh.
Written in My Own Heart's Blood by Diana Gabaldon, the latest in the Outlander series, was fantastic. I always enjoy Jaime and Claire's adventures. While I could've done without the foray into the American Revolution (I find US History unbelievably boring..I know…it's strange), I know it's a necessary part of the story. FYI-the Outlander TV series starts on Starz on Sunday. If you're a fan (obvs I am..so excited!!), tune in at 9pm. In preparation, I read Outlander again. It's probably the 4th time I've read it and I never re-read books. I hope the TV series lives up to my imagination.