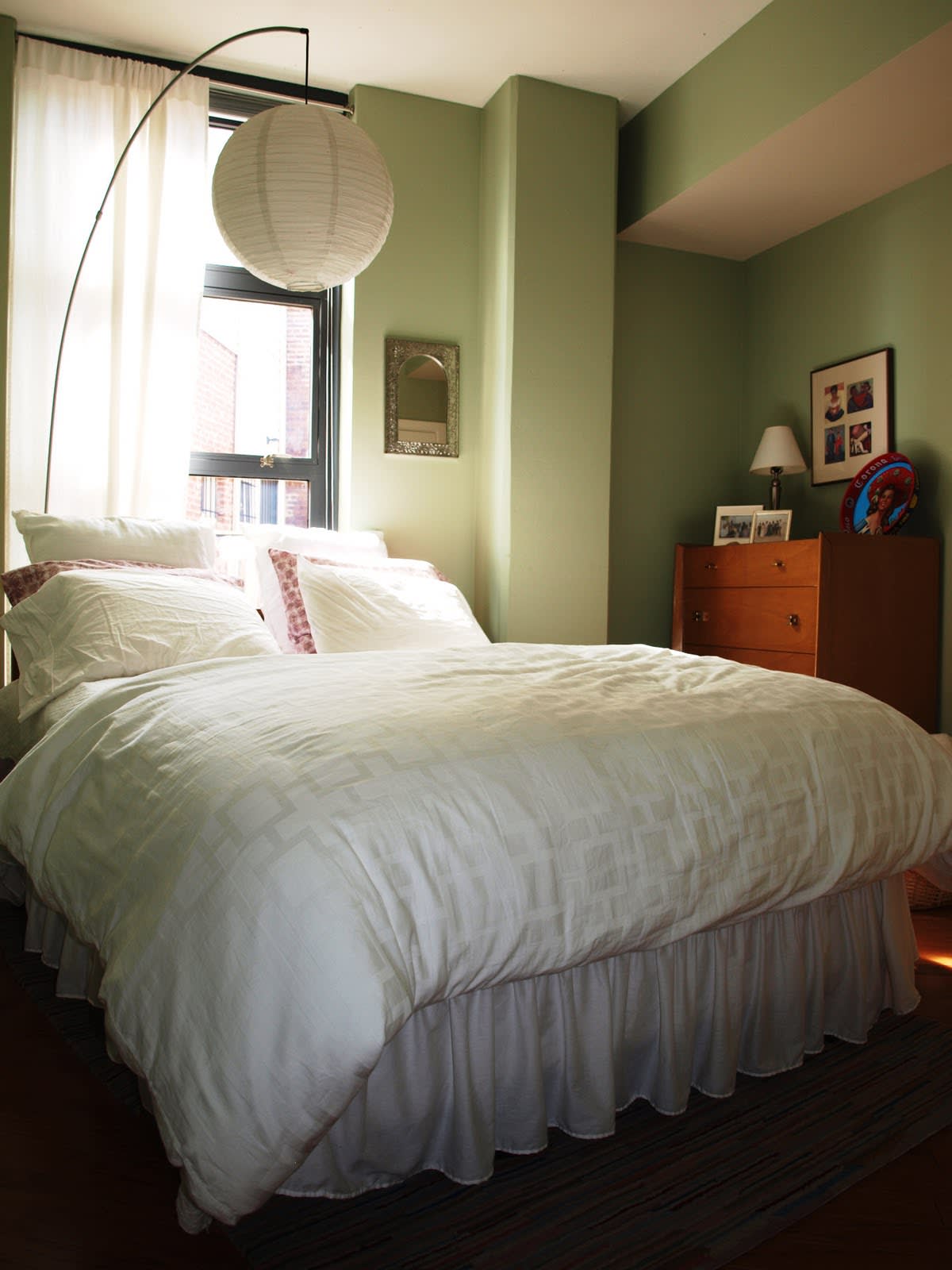 I've recently been looking for decorating inspiration because I'd like to repaint my guest bedroom and bath. Although this isn't the best photo in the world, you see the setup.


When we moved into our place three years ago, I picked this sage green with grey undertones. The granite in our kitchen and baths is grey. The pendant lamps in the kitchen are blue. My over all color for the main rooms is a light grey with blue undertones. All paint colors had grey undertones so they'd meld with the rest of the condo. I still like the paint in the rest of our condo but I am OVER the green in the guest rooms.


This presents a conundrum because I am not a tan or beige type of person. I like color and lots of it. So what do I paint these rooms? Or should I wallpaper? I've learned many, many interesting things in the last several weeks.


One go-to source for inspiring decor is
Lonny.
I've discussed my love for
Lonny
in a previous
post
. They just launched a website and a blog. I am love with half the bedrooms on their decorate page but I must be realistic. I'm going to sell this place at some point so it can't be too crazy.
Another wonderful resource I found is
Young House Love.
It's a great source for DIY projects and ideas. The authors, a husband and wife blogger team, have done amazing stuff to their house in Richmond. I'm obsessed with their
half bath
redo. Ideas are percolating.
Another source of inspiration for me is
Apartment Therapy
. I read this post which led to this
link
and I discovered REMOVABLE WALL PAPER. I've seen some incredible spaces (touring houses and in magazines) that have utilized wallpaper in a stylish manner. I'd been reluctant to go there because once again, I've got to sell this place at some point. Buyers are extremely picky these days and one little thing can sour them on your place. The advent of removable wall paper opens up a lot of possibilities.
I also love
coco+kelley.
The mix of fashion, decorating and food is right up my alley. In my perfect life, I'd only attend to those three categories and spend my days dressing impeccably, decorating to my hearts content and cooking masterpieces. In my real life, it's all about work and comfortable shoes. *sigh*
On the local side of things, here are two inspiring designers:
Lindsay Hair
and
Lori Graham
. Both are friends of friends and I have a passing acquaintance. I love what they do. You will too!