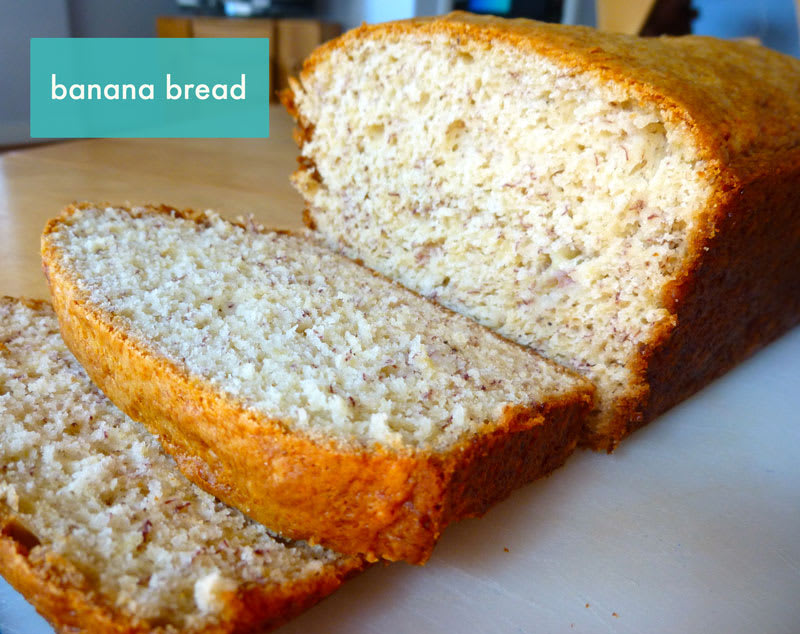 Whenever I have bananas that have gone bad (those outlaws!), I make a batch of banana bread. My husband loves it and it's received rave reviews from my friends. Not only does it taste delicious, it's low fat. Enjoy!


Banana Bread
2 large eggs
3/4 cup sugar
1 cup smashed ripe bananas (about 3 medium)
1/3 cup buttermilk
1 tablespoon vegetable oil
1 tablespoon vanilla extract
1 3/4 cups all purpose flour
2 teaspoons baking powder
1/2 teaspoon baking soda
1/2 teaspoon salt
Preheat oven to 325°F. Lightly grease 8 1/2×4 1/2×2 1/2-inch pan; dust with flour. Using electric mixer; beat eggs and sugar in large bowl until thick and light, about 5 minutes. Mix in smashed bananas, buttermilk, oil and vanilla. Sift flour, baking powder, baking soda and salt over mixture; beat until just blended. Transfer batter to prepared pan.


Bake bread until golden brown on top and tester inserted into center comes out clean, about 50 minutes (check to see if done at 45 minutes). Turn bread out onto rack and cool.


Recipe via epicurious.com