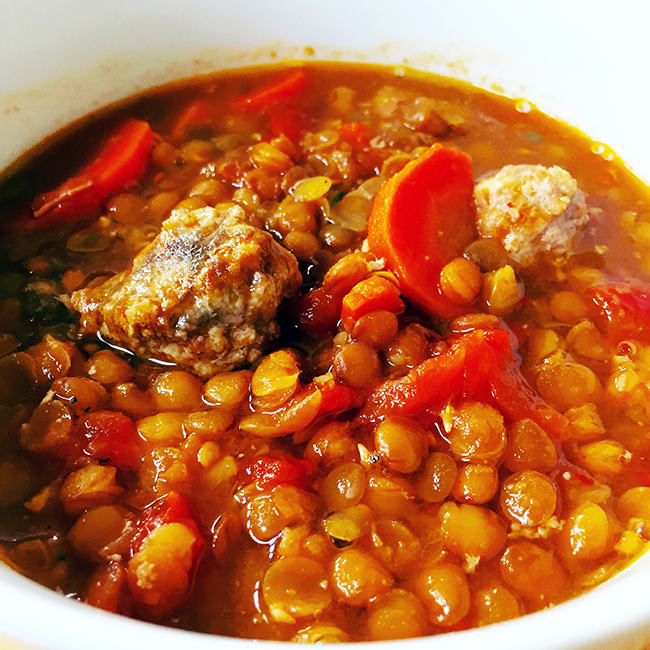 Sundays are the end of my work week and I love a bowl of something delicious when I'm finished for the day. Last weekend, I made this lamb and lentil soup and it was a hit. Enjoy!

For the Soup
1/2 cup diced onion
1 1/2 tablespoons olive oil
1 large clove garlic, chopped
1 1/2 tablespoons chopped fresh rosemary
1 1/2 tablespoons chopped fresh thyme
Sea salt
Freshly ground black pepper
2 medium carrots, scrubbed well and cut crosswise into 1/2-inch pieces
1 cup brown lentils, rinsed and picked over
1 cup canned no-salt-added crushed tomatoes, with their juice
8 cups chicken stock
1/2 cup packed chopped fresh parsley

For the Meatballs
12 ounces ground lamb
1 clove garlic, finely chopped
1 1/2 tablespoons chopped fresh rosemary
1 tablespoon chopped fresh thyme
1 large egg
1/2 cup freshly grated Parmigiano-Reggiano or pecorino Romano cheese
1/2 cup plain dried panko, Japanese bread crumbs (I used gluten free bread crumbs)
Sea salt
Freshly ground black pepper
1 tablespoon olive oil
1 1/2 teaspoons canola oil

For Serving
1/2 cup packed finely chopped fresh parsley
1/2 cup freshly grated Parmigiano-Reggiano cheese
For the soup:


Warm the olive oil in a large stockpot over low heat. Add the onion and garlic; cook, stirring, for 5 minutes, then add half of the rosemary and half of the thyme, season lightly with salt and pepper, and cook for 1 minute. Add the carrots and cook, stirring, for 2 minutes. Add the lentils and the tomatoes with their juices, stirring until all the ingredients in the pot are coated. Increase the heat to high, add the chicken stock and bring to a boil, then reduce the heat to low and add the remaining rosemary and remaining thyme and the parsley. Partially cover and cook for 45 minutes.

For the meatballs
Meanwhile, line a plate with paper towels.
Combine the ground lamb, garlic, rosemary, thyme, egg, cheese, panko and a generous sprinkling of salt and pepper in a medium bowl. Use your clean hands to mix the ingredients and form them into about 30 small meatballs.
Pre heat the oven to 425. Prepare a cookie sheet and place 30 meatballs on the cookie sheet. Once the oven is ready, bake the meatballs for 8 minutes. (I line my with aluminum foil to make clean up easy.)
After the soup has cooked for 45 minutes, add the meatballs. Cover and cook for 30 to 45 minutes or until the lentils and carrots are tender and the meatballs are cooked through. Taste, and add more salt and/or pepper as needed. If the soup tastes weak, uncover and cook over medium heat for 10 more minutes.
Ladle the soup into mugs or bowls, sprinkle with either or both the parsley and Parmigiano-Reggiano, and serve.