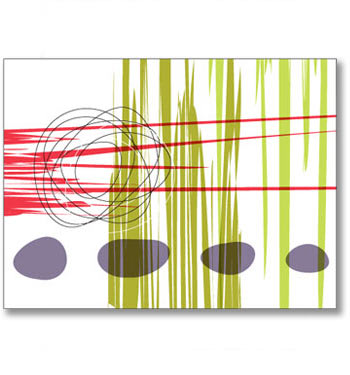 Outfitting your new home with furniture, accessories and art can be expensive. I'm constantly looking for affordable, original items to put on my walls. Through my voracious reading habits, I've come across some great resources.

One great source is
2Modern
. As you've seen from various photos that I've posted, my furniture is mid-century modern and I want my art/wall hangings to reflect that aesthetic. I purchased the limited edition print above by Campbell Laird for $300 and I'm thrilled with the results.
I also love the website
Textile Arts
. This site is Marimekko heaven. Not only does it give you access to various bolts of fabric for drapes or pillows, they also have wall hangings and wallpaper. I purchased the
Lumimarja kit
in the 48"x48" size for a wall near my kitchen and it looks amazing. It only cost $80. (Prices have gone up in the last three years so now it costs $95. For the size of the piece, it's still an excellent price.)
Two other websites I recently discovered are
Zatista.com
and
Exhibition A
. I haven't purchased anything on either of the sites (YET). So far I've been browsing and bookmarking items like mad.
Zatista is original art work with a range of prices. It's accessible to the average buyer and most importantly, it's not intimidating.


Exhibition A is a "members only website that sells exclusive editions of artwork by top contemporary artists." The setup is similar to HauteLook or Rue La La but for art. I think it's ingenious.


Esty.com is another great option. I recently purchased a black and white photo of a Paris Ferris Wheel from
Bliss Goodloe Photography
for $24. The revamping of my guest bathroom is still in progress and this was a recent addition.