One of my favorite parts of traveling is sampling the local cuisine. The Bahamas is a strange mix (in my opinion) of American chains with a few original restaurants. We could've eaten at Hard Rock Cafe, Wendy's, Subway or McDonald's. Thankfully, we didn't but we did eat at Nobu. I wasn't impressed. Fortunately, my fellow travelers were open to trying anything that isn't a chain. Our top two meals were the local Fish Fry and a Greek restaurant downtown.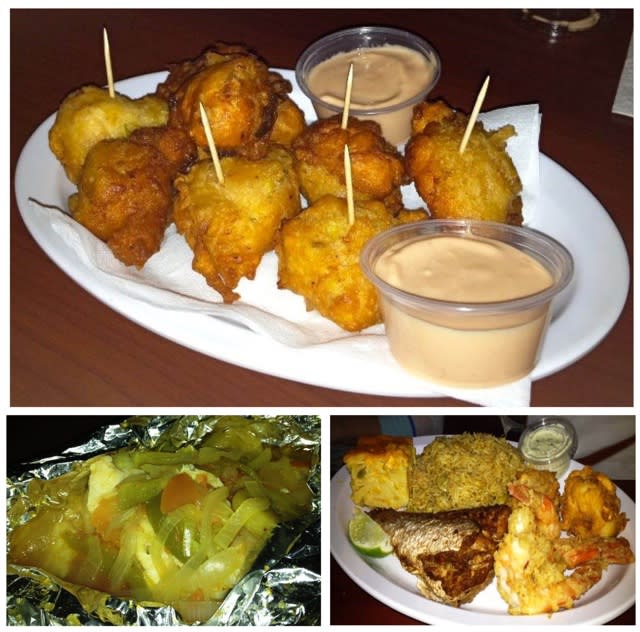 Conch fritters (top), grilled grouper (bottom left), combo plate: fried snapper, lobster and shrimp (bottom right)

The Fish Fry is where the locals eat. It's where Bahamians tell tourists to go for the best seafood. It's a collection of colorful restaurants on the shore line. Bahamians like their food fried and that was evident by what we ate. We went to Seafood Haven as recommended by our taxi driver. It was fresh, delicious and we enjoyed every bite.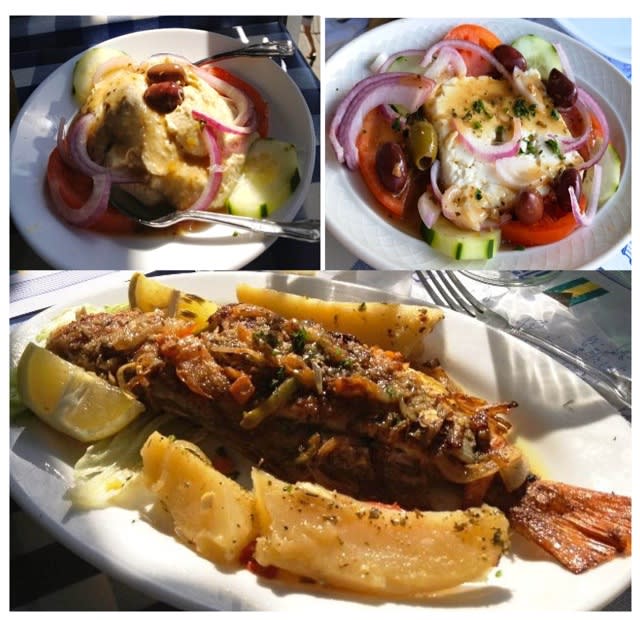 Hummus (top left), feta and olives (top right), grilled snapper marinated in lemon and spices with roasted potatoes (bottom)

Our second best meal was Athena's Cafe in downtown Nassau. We stumbled upon this place and I'm glad we decided to give it a whirl. You enter a jewelry store and then head upstairs for the restaurant. Although I found it a little strange (jewelry with your babaganoush?), it was a fantastic meal. The restaurant has been around since 1960. The hummus and feta were delectable and the seafood was amazing. We also had a lovely Greek salad which we destroyed before I had the chance to take a picture. My only complaint was the owner yelling "opa" every five minutes. The first time was cute. The twentieth time I wanted to boot him off the balcony.

Overall, the Bahamas was a marvelous trip. The combo of beautiful weather, good friends and delightful food made for a wonderful weekend get away.