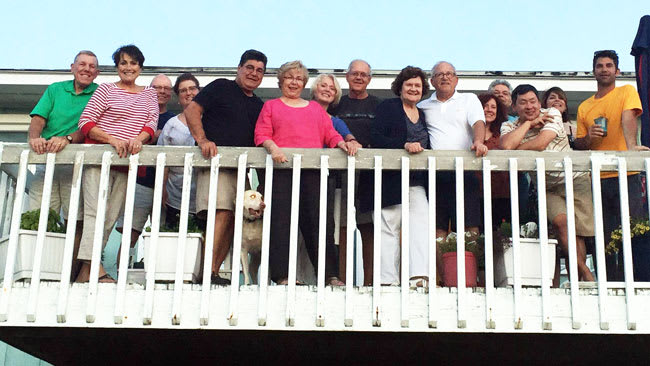 Last weekend, my Dad celebrated a big birthday and I pulled off the surprise of all surprises. It was so much fun!
My Dad is a control freak and told me vehemently, on several occasions, that he "did not want to do ANYTHING for his 70th birthday". I decided to totally disregard his sentiments. My rationalization: It only happens once. He should be celebrated because he's beloved. Plus this Winter and Spring have been tough for the Angotti clan. One of his younger brothers passed away earlier this year and it's left a gaping hole in our reality. After months of mourning, we needed a happy occasion to gather. Several months ago, I began plotting with my Aunt.
My Dad's birthday plan was for my brother and me to spend the weekend with him at the beach house. This was our cover. My Aunt started looking at weekend rentals. I called a small group of friends and invited them to join us. Everyone said yes, my Aunt booked the house and everything was put in motion.
I kept things casual. There weren't going to be crazy decorations or someone jumping out of a cake. I knew if I planned anything elaborate, it'd tip him off.
On Friday morning, my husband and Dad went to play golf. This is what they typically do when we visit. With my Dad out of the house, I had everyone who was at the beach come over. When my Dad and husband came back from golf, all the surprise guests hid in the bedrooms. My brother had just arrived and my Dad was excited to see him. As they talked, two friends trickled out of the bedrooms. My Dad didn't even notice and things became funny fast. Then my Uncle came out. Then two more came out. Finally Dad realized who was in the house and the surprise was sprung.
I'd been apprehensive my Dad may get mad (there were soooo many conversations about no birthday plans) but he wasn't. Although he freaked out for about two hours after the surprise, everything went well. His freak out was about how to feed everyone but I'd already taken care of the dinner plans. We had a pot luck cookout which went swimmingly.
Overall, this weekend was one of those weekends I'll remember forever. It was full of great company, funny stories and lots of laughter. I'm thankful everyone participated and most of all, my Dad had a ball. Happy birthday Dad!! We love you.
*thanks to everyone who spent the weekend with us. special shout out to Debra who helped with the all the details.*