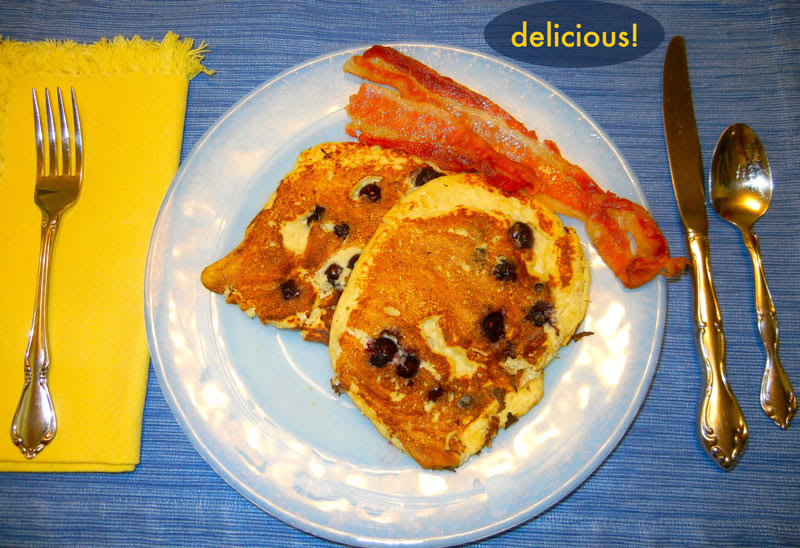 Although I made these pancakes two weeks ago, I'm still dreaming about them. They were delectable.
My Mom loves pancakes. After I spied this recipe in House Beautiful, I had to whip up a batch. They're fluffy, sweet, tart…the perfect breakfast or brunch. Or maybe even dinner.
Blueberry and Ricotta Pancakes
2 cups whole milk ricotta

4 large eggs, separated

1 cup buttermilk

1 tablespoon fresh lemon juice

1 teaspoon freshly grated lemon zest

1 cup all-purpose flour

1/4 cup sugar

1 teaspoon baking powder

1/4 teaspoon salt

1/4 teaspoon cinnamon

1/2 teaspoon vanilla

4 tablespoons unsalted butter

1 cup blueberries

1 cup real maple syrup
In a large bowl, add ricotta, egg yolks, buttermilk, lemon juice, and lemon zest, and stir until well blended. Add cinnamon and vanilla. In another bowl, sift the flour together with the sugar, baking powder, and salt. In a third bowl, whisk egg whites until soft peaks form.
Fold the dry ingredients together with the wet, then carefully fold the egg whites into the batter.
In a large nonstick skillet, melt 1 tablespoon of butter over medium-high heat.
Carefully ladle batter into pan. Add a handful of blueberries to each pancake. Cook until bubbles rise in the center of each pancake. Turn the pancake over and cook for another two to three minutes. Repeat with the remaining batter, adding more butter to the skillet as needed.
Keep the cooked pancakes warm in a 200-degree oven until ready to serve.
In a microwave-safe pitcher or cup, warm the syrup. Serve the pancakes drizzled with syrup.
*Adapted from Tyler Florence's spiced fig and ricotta pancakes from House Beautiful October 2011.