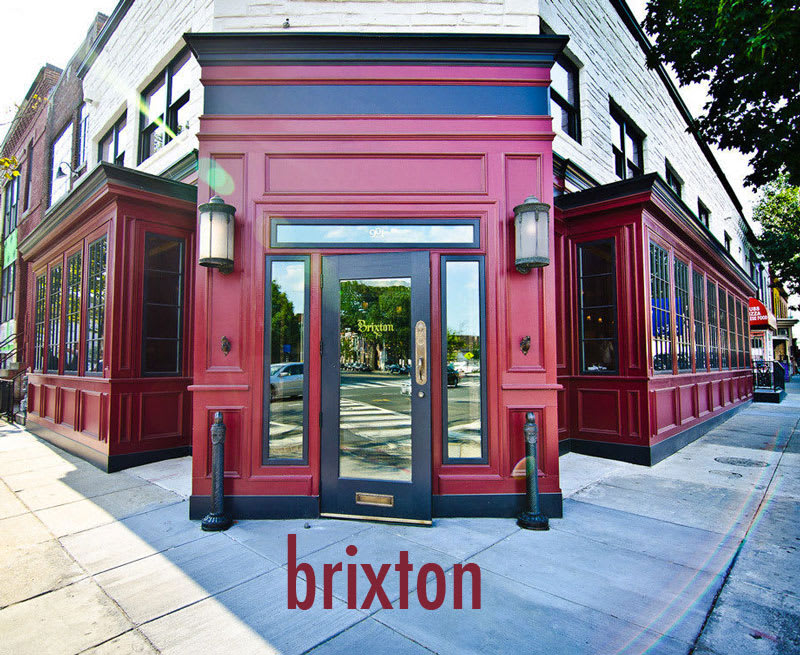 The opening of Brixton on the corner of U St and 9th St, NW has been highly anticipated. There's been rampant speculation for months about the interior, roof deck and food. I drive or walk by it most days and it's been wonderful to see the transformation.

The good news: it delivers. The interior is beautiful. The vibe is English pub with dark woods and clubby furniture. With three floors to chose from, it feels enormous even on a busy Saturday night. The roof top is spectacular.
The food has potential. My husband and I went the second week Brixton was open and there's always a period of adjustment in new restaurants. The samosas were the best item we sampled. They were light and tasty. My husband had the roasted chicken which was delicious but salty (and we like salt.) The same chef that opened Marvin is heading the kitchen at Brixton. His food is always good but heavy on the salt. I'm hopeful the salt will be adjusted as feedback trickles into the kitchen. I had the jerk scallops with a mango chutney. The first one was fantastic. The second and third: not so much. Whoever cleaned the scallops forgot to trim the tough muscle that attaches the scallop to the shell. It was not good. I still shudder a little when I think about it. I also had a salad. Boring, I know, but this girl has to have some veggies in her life. It was lovely and full of pickled vegetables, which is a trend I adore. The beer and wine list is extensive and I had my first shandy (beer and lemonade). It was delightful, refreshing and I recommend it.
Needless to say, I'll be going back. First, it's literally a block and half from my house. Second, the music was amazing (hello, ESL guys). Third, the food will improve. Fourth, half the great bartenders in the city are working there. I was amused and delighted to see many familiar faces.
top photo: Rey Lopez via Eater.