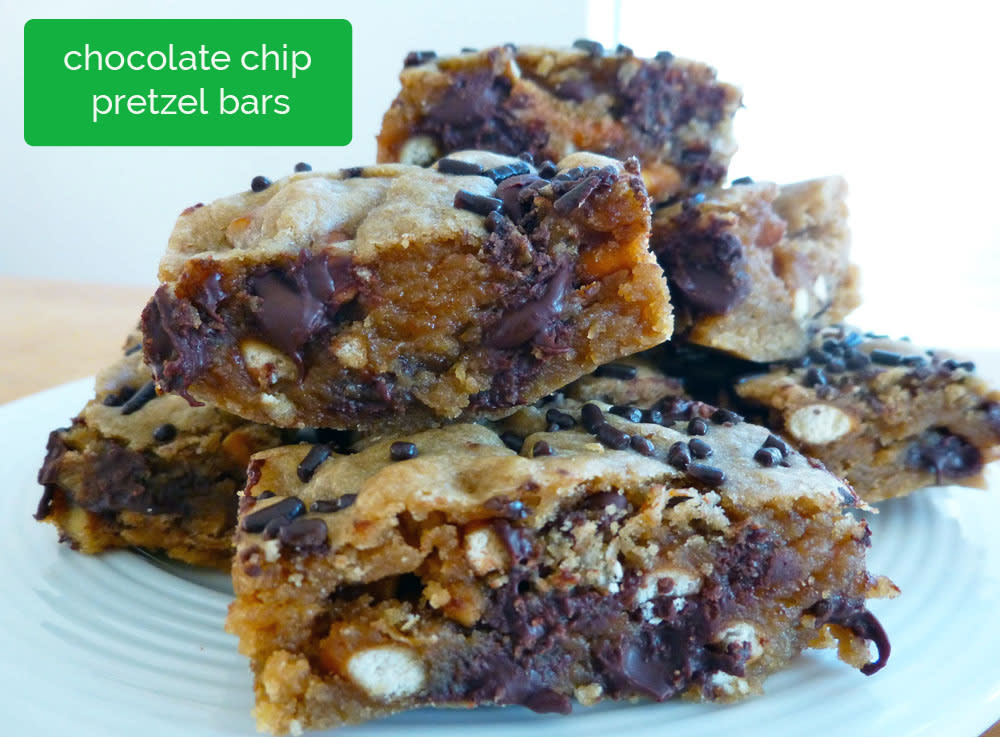 Tonight, I'm going to a bubbles and sweets party. That happens to be one of my favorite combos because there's nothing better than champagne and desserts. My contribution: these delectable chocolate chip pretzel bars. While they aren't as addicting as the
salted honey and chocolate bark,
they're pretty tasty. What are you doing tonight? Happy New Year!
Chocolate Chip Pretzel Bars
Ingredients

2 cups all-purpose flour
1 teaspoon baking soda
1/2 teaspoon salt
1 1/2 sticks unsalted butter, softened
1 cup light brown sugar
1/2 cup sugar
2 large eggs
2 teaspoons pure vanilla extract
One 12-ounce bag bittersweet chocolate chips
1 1/2 cups mini pretzels, coarsely chopped
2 tablespoons chocolate sprinkles
Preparation
Preheat the oven to 350°. Line a 9-by-13-inch metal baking pan with parchment paper, allowing overhang on the 2 long ends.


In a bowl, whisk the flour, baking soda and salt. In a large bowl, using a mixer, beat the butter with both sugars at medium speed until light, 1 minute. Beat in the eggs and vanilla. At low speed, beat in the dry ingredients. Stir in the chips and pretzels.


Spread the batter in the pan and top with the sprinkles. Bake for 30 minutes, until golden; the center will still be a little gooey.

Transfer the pan to a rack and let cool completely.


Run the tip of a knife around the side of the pan and lift the bar out using the parchment paper. Cut into 24 squares and serve.


MAKE AHEAD The bars can be stored in an airtight container at room temperature for up to 2 weeks.

recipe via food and wine.