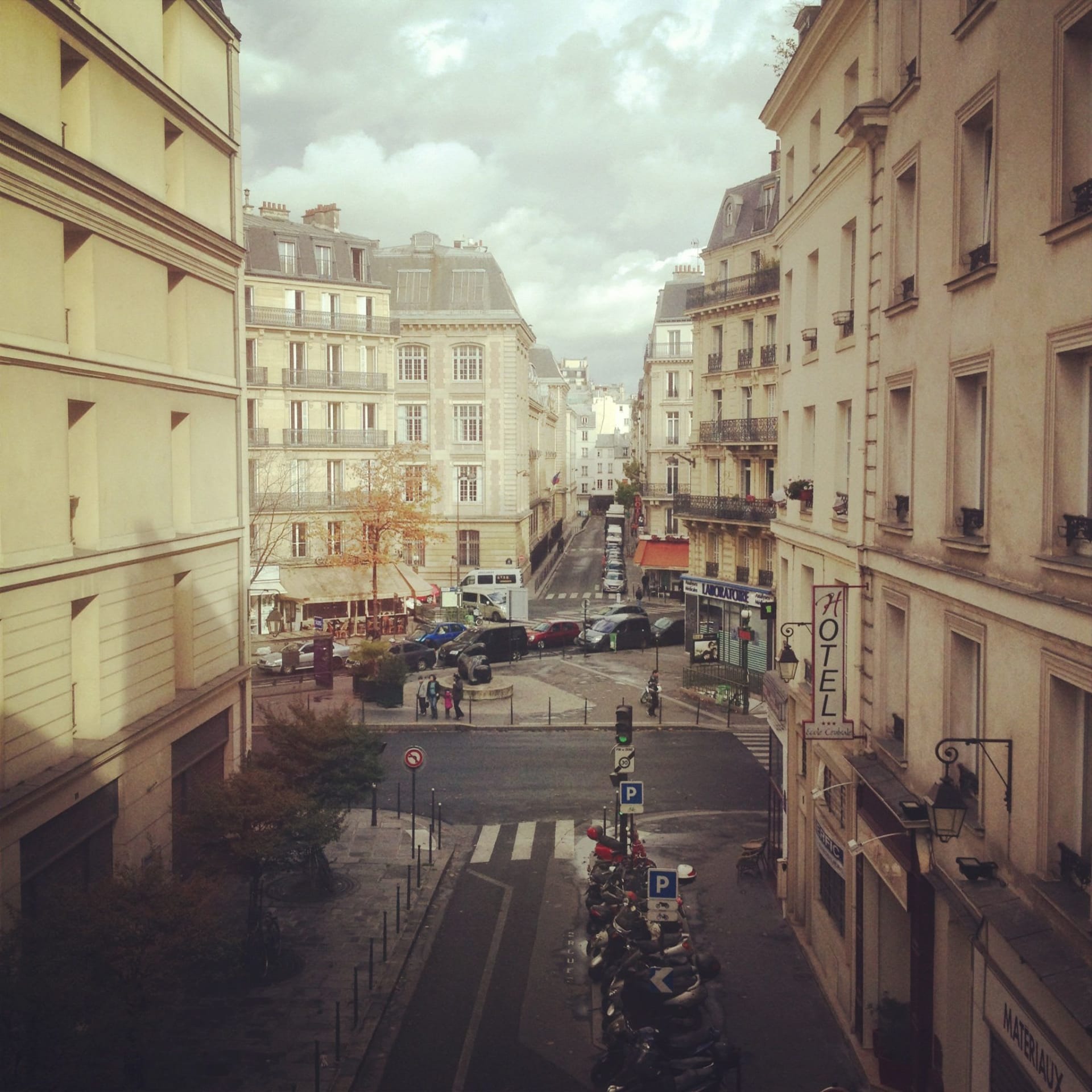 While we were in Paris, one thought kept circulating: why aren't we buying an investment property in a foreign country? I've always wanted to live abroad and one of my biggest dreams is to live six months in the US and six months somewhere else.
The
owners of the apartment
we rented in Paris are American. Intrigued, I emailed the owner after our visit and asked if I could interview her about her experience of buying and owning a Paris investment property.
The owners are Bill and Julie Boston. They currently live in San Jose, California and Paris has a special place in their hearts. It's where Bill proposed and they love the city. They bought the apartment as a "possible retirement home and as an excuse to return as often as possible." Below is my interview.
Why did you decide to buy an investment property in Paris vs. somewhere in the US?
We love it there and wanted to visit as often as possible. Since it is the #1 tourist destination in the world and if we were able to rent it when we are not there, it made sense. We would like to spend more and more time there as we grow older and even retire there, if possible. We find it not as costly as people think. When you rent an apt. and don't have to eat as many meals out, it can be more comfortable than a hotel room. You have quality down time which recharges you faster and you can be out seeing Paris.
Is the apartment a condo? If so, are there by-laws you have to follow?
Our apt. is one of 12 in the building. The building is much like here in the USA in that it has a Syndic (same as an HOA) and a board. Our meeting is once a year and we have someone attend the meeting on our behalf if we can't make the trip.
How did you find it? Did you use a real estate agent?
I/We did a lot of research on buying property in France before we made our 2nd trip. We intended to just look on this trip but stumbled upon the property we ended up purchasing and we were in a position to make it happen. There are agents that will find property for you that typically charge a fee. Real estate in France does not have an MLS and many properties are sold before they even come on the market. Properties in Paris are in great demand. Most need extensive work.
If you used an agent, do you have to pay the agents commission or does the seller?
We did pay a separate fee to an agent I don't recall the exact amount.
Were you able to have a home inspection?
We did not have an inspection. The property was remodeled within a couple of years so it was turn key. I think we only had to have a loi carrez – precisely defined measurement of the surface area of the property which the bank needs for financing.
How long did the buying process take from start to finish?
We found the property in the month of March and returned in August to close.
Did you have to purchase in cash or were you able to finance it?
We were able to finance the property through a British Bank. There are many agency's and people who help foreigners to purchase property, you need to do your homework and buyer beware because some agents are only in it for the $ and once you start a process you're stuck so know the details with what they offer going in.
If you were able to finance it, how much money did you have to put down? Did you use a French bank?
I think we had to come up with 20% down. Mortgages are typically 20 years not the 30 we are used to here. You do need a French bank account as everything over there is done automatically by deducting from a bank account. Trouble is you can't just walk into a bank and open an account, you have to be invited. Our agent, who referred us to an agency that handled the financing process, helped us with that. Getting a RIB (basically an ID like a routing number and check info) document is the key to everything over there which is the # the bank provides for them to deduct the payment. Electricity, phone etc. all bills need a RIB #.
What sort of paper work was required to purchase a property in Paris?
There certainly was paperwork! The funny thing is it isn't necessarily about credit. It is more about your health. We had to have blood drawn, info on any medications we were taking, etc. and a physical. Apparently they are more concerned about the person living long enough and/or being healthy enough to work and pay the mortgage. This was eye opening for us.
How does owning an investment property in a foreign company impact your taxes? Is it a write off?
Taxes I will defer on as each persons tax situation is different. I will say that is is doable. We also pay a yearly habitation tax which isn't much. I think it is best to consult a tax expert for advice.
What was the hardest aspect of buying in a foreign country?
Navigating the real estate market is very different there and of course, the language. You have to have someone you trust and that speaks the language. Casual French doesn't cut it in the process of understanding the many written French documents you will encounter. Again, many people make their living helping foreigners find, purchase and renovate properties. Most all properties are old and in need of renovation. This takes TIME, expertise and money. You need someone to manage this if you don't speak the language and can't be present for the many decisions during the process. As with any remodeling this can be a financial challenge and risk because if you are out of the country it is in someone else's hand and you are paying for that persons time as well. Since this is one of the most popular places in the world your risk can very well pay off if you manage it correctly.. there is only one Paris!
Do you think owing a property in another country has been a positive or negative experience?
There has been trying times but we love the apartment and love going back anytime we can. This is an investment in time, money and emotion but we are happy so far that we made this purchase.
We wouldn't use the same agent we originally used again and would advise people to do their homework before undertaking such a prospect.
Thank you Julie for sharing your adventure!
A couple of things fascinated me: First, I can't imagine doing this job without a central MLS. That's nuts! Second: I didn't expect there to be paperwork about your health but it makes sense.
Researching this topic was really interesting and later this week, I'll share more information from an agent's POV.
*photo by me, from the apartment in the Marais.