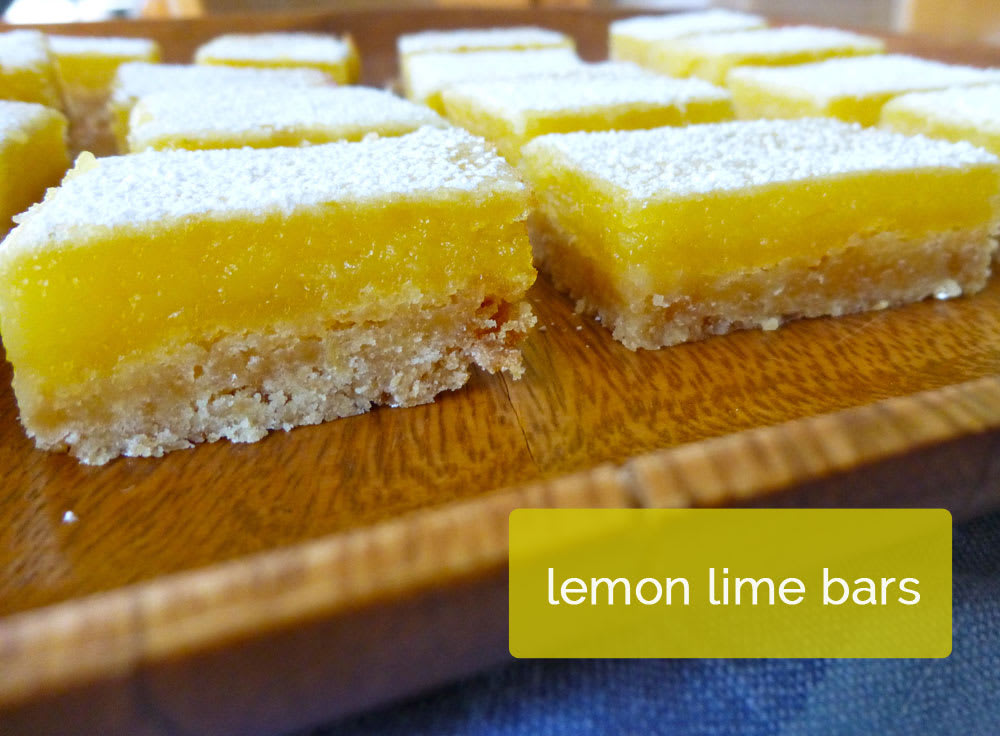 Lemon bars remind me of summer time and cook outs. My parents were in town for a quick visit and I thought these would be the perfect finish to an evening on the roof top. I add lime juice to my version to add more depth to the citrus flavor. They're a perfect mix of sweet and tart. Enjoy!

Lemon Lime Bars
base:


1 3/4 cup flour


2/3 cup brown sugar


1/4 teaspoon coarse salt


12 tablespoons of butter


lemon layer:


1/4 cup fresh lime juice


1/2 cup fresh lemon juice


1 1/3 cup granulated sugar


3 tablespoons all purpose flour


4 eggs, beaten


zest of one lemon


zest of one lime


powdered sugar for the top


Preheat oven to 350 degrees. Line a 13 x 9 pan with foil (or an 8×8 pan for thicker bars). Set aside.
Blend butter, brown sugar, salt and flour together until they form a coarse meal. Pat firmly into prepared pan. Bake for 20 minutes or until lightly browned.
To prepare lemon layer, in a large bowl whisk together eggs, sugar, flour, lemon/lime juice and zest. Pour over first layer and bake for an additional 25 to 3o minutes. Loosen around edges and cool. Cut into squares and sift powdered sugar over top to serve.
*adapted from
epicurious.com