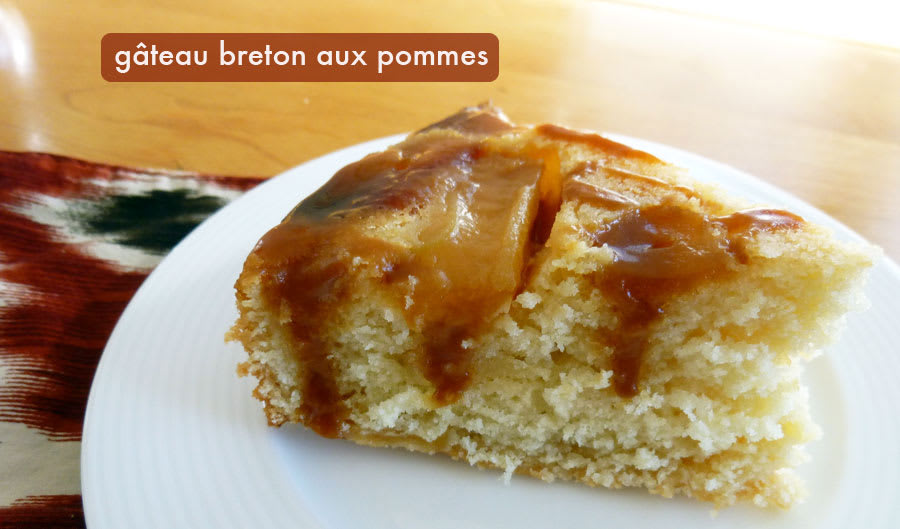 This recipe is a show stopper and possibly the best cake I've ever made. It was relatively easy and delivered a whole lot of flavor. It was an amazing ending to a phenomenal meal. If you're looking for a perfect Fall dinner menu, follow the steps below.


For the first course, serve a Celery Root and Apple Salad. I used the epicurious recipe as the starting point but added watercress and argula. I also used regular olive oil instead of hazelnut oil and added chopped hazlenuts to the salad. It was delicious!


For the main course, present the Cider Brined Pork Loin. It's simple and flavorful. My sous chef (aka my husband) also added carrots to the onions and potatoe mix under the pork loin. Our dinner guests raved.


The pièce de résistance: gâteau breton aux pommes. See the recipe below. As usual, I started with the epicurious recipe but then altered it. When I started to make it, I realized I only had 1 egg not 3. I used egg whites instead. I also cheated by buying salted carmel sauce from Cork Market instead of making my own.
Gâteau Breton aux Pommes
12 tablespoons (1 1/2 sticks) unsalted butter, melted, slightly cooled, divided, plus more, room temperature, for pan
1 1/4 cups all-purpose flour plus more for pan
4 firm, tart apples (such as Pink Lady or Braeburn; about 2 pounds), peeled, cored, sliced 1/2" thick
2 tablespoons plus 1 cup sugar, divided
1 teaspoon baking powder
3/4 teaspoon kosher salt
1 teaspoon finely grated lemon zest
1 large eggs and 1/3 cup + 1 tablespoon eggs white
1 jar of salted carmel sauce
Place rack in middle of oven and preheat to 350°F. Butter and flour cake pan; set aside.


Heat 2 tablespoons melted butter in a large skillet over medium heat. Add apples, sprinkle with 2 tablespoons sugar, and cook, tossing occasionally, until apples are golden brown, 10–12 minutes. Arrange half of the apples in the bottom of prepared cake pan so most of it is covered (a few gaps are okay).


Whisk baking powder, salt, lemon zest, 1 1/4 cups flour, and remaining 1 cup sugar in a large bowl. Whisk in egg and egg whites plus remaining 10 tablespoons melted butter until smooth.


Pour half of batter over apples in cake pan, top with remaining apples, then pour remaining batter over. Bake cake until top is golden and a tester inserted into the center comes out clean, 35 minutes. Transfer pan to a wire rack and let cake cool slightly; turn out onto rack and let cool.


In a small pan, heat 1/2 cup of caramel sauce. When liquid, drizzle over cake and serve. Enjoy!