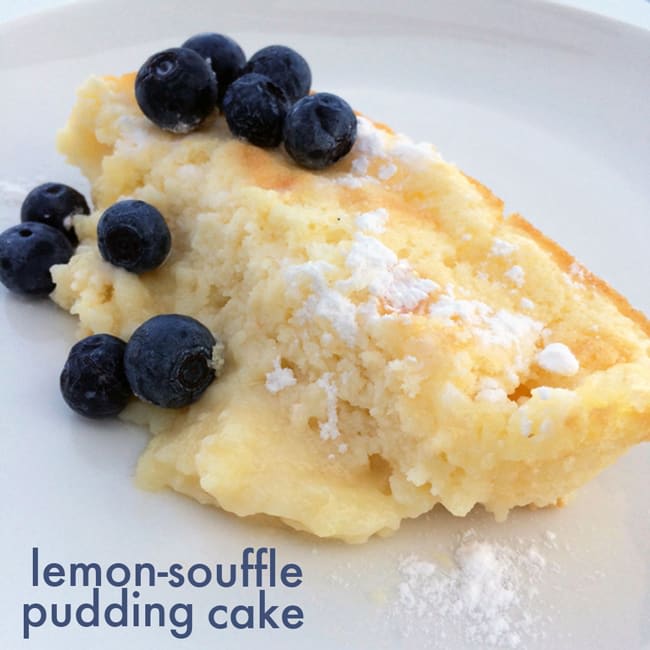 Over the weekend, I made this delicious lemon-souffle pudding cake. It was a huge hit and easy to make. It was the perfect ending to a great meal. Hope you had a great Labor Day weekend!
Lemon-Souffle Pudding Cake
ingredients
4 tablespoons (1/2 stick) unsalted butter, room temperature, plus more for baking dish
3/4 cup granulated sugar, plus more for baking dish
1 cup buttermilk
1/2 cup creme fraiche or sour cream
2 teaspoons finely grated lemon zest
1/2 cup fresh lemon juice
3 large eggs, separated
1/3 cup all-purpose flour
1/4 teaspoon kosher salt
Powdered sugar (for serving)
Fresh blueberries (for serving; optional)
preparation
Preheat oven to 325°. Butter a shallow 1 1/2–2-quart baking dish (I used a loaf pan), then sprinkle with granulated sugar. Stir buttermilk, creme fraiche, lemon zest, and lemon juice in a medium bowl just to combine and set aside.
Using an electric mixer on high speed, beat 4 tablespoons butter and 3/4 cup granulated sugar in a large bowl until well combined, about 4 minutes. Add egg yolks 1 at a time, beating to blend between additions and scraping down sides of bowl as needed.
Reduce mixer speed to low and, with motor running, add reserved buttermilk mixture in 3 additions, alternating with flour in 2 additions, beginning and ending with buttermilk mixture (batter will be extremely loose).
Using an electric mixer with clean, dry beaters, beat egg whites and salt on high speed in a medium bowl until soft peaks form. Fold egg whites into pudding cake batter in 3 additions, just barely blending after each addition.
Scrape pudding cake batter into prepared baking dish and place on a rimmed baking sheet. Bake until top is puffed and golden brown and center barely jiggles, 35–45 minutes. Transfer baking dish to a wire rack and let pudding cake cool at least 30 minutes.
Serve pudding cake dusted with powdered sugar and topped with blueberries, if desired.