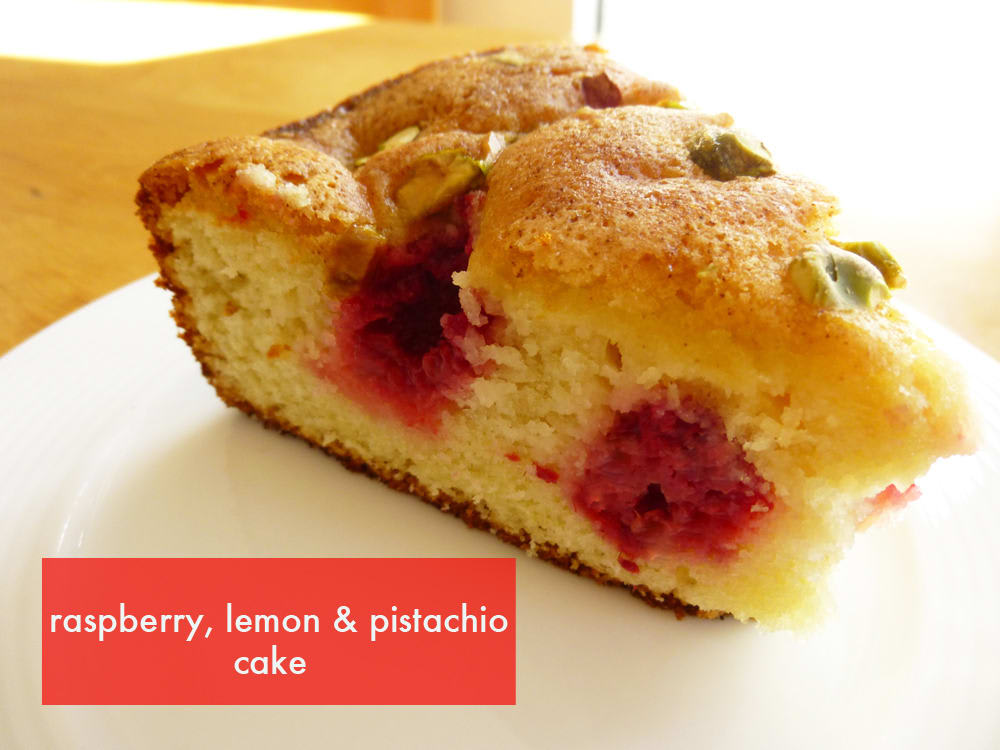 On Sunday I went to a pot luck cook out and my contribution was this delicious cake. The fresh flavors were a perfect finale to a wonderful meal. Enjoy!
Rasp-Lemon-Cake-WholeRaspberry, Lemon & Pistachio Cake
ingredients
Nonstick vegetable oil spray
1 3/4 cups all-purpose flour
1 1/2 teaspoon baking powder
1/2 teaspoon kosher salt
4 large eggs
1 1/4 cups plus 2 tablespoons sugar
2 teaspoons vanilla extract
2 tablespoons finely grated lemon zest
1 tablespoon plus 1/4 cup fresh lemon juice
3/4 cup olive oil
1 cup fresh raspberries (about 4 ounces)
3 tablespoons chopped unsalted, raw pistachios
Preheat oven to 350°. Coat a 9" diameter cake pan with nonstick spray. Whisk flour, baking powder, and salt in a small bowl.
Using an electric mixer, beat eggs and 1 cup sugar until light and fluffy, about 5 minutes. With mixer running, add vanilla and 1 tablespoon lemon juice, then gradually add oil, mixing just until combined. Fold in lemon zest and dry ingredients.
Scrape batter into prepared pan and smooth top. Scatter berries over cake, then pistachios and 2 tablespoons sugar. Bake cake until a tester inserted into the center comes out clean, 45-55 minutes. Meanwhile, bring remaining 1/4 cup sugar and remaining 1/4 cup lemon juice to a boil in a medium saucepan, stirring to dissolve sugar; let lemon syrup cool.
Transfer hot cake (still in pan) to a wire rack and immediately brush with lemon syrup (use all of it). Let cake cool completely in pan.
Do ahead: Cake can be made 2 days ahead. Store wrapped tightly at room temperature.