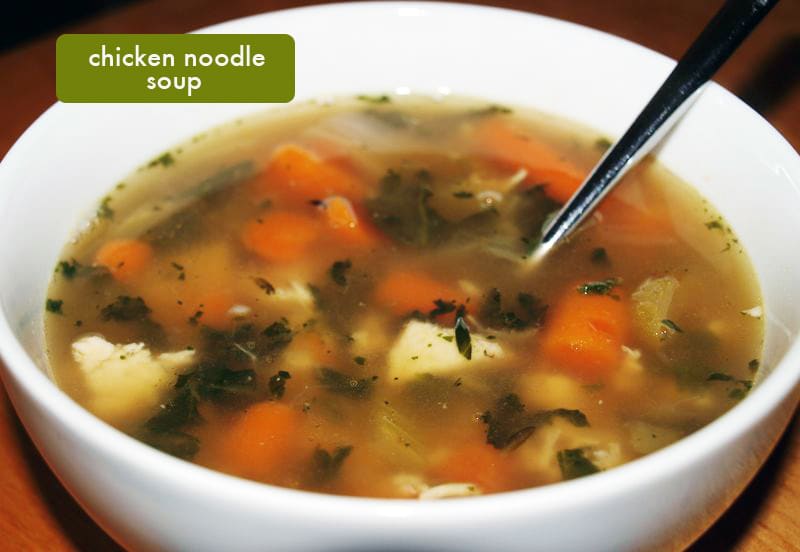 This is a repost because I feel terrible today. It's snowing (so.over.the.snow), my head is pounding and I want to go back to bed. The saving grace of today is the vat of chicken noodle soup simmering on the stove. My husband is a rock star. This was originally posted in December 2011.

Nothing comforts me more than a bowl of chicken noodle soup. I'll eat any version of it: from a can, in a restaurant, or homemade. As soon as the first bit of nip hits the air, I'm looking for a bowl of broth, noodles and chicken. This homeade adaptation is a 'lil something my husband and I whipped up. He did the hard part: boiled the chicken carcess to make the broth with onions, celery and carrots. I added the fun stuff: chopped chicken, star pasta and spinach. Enjoy!
Chicken Noodle Soup
1 carcass of a grocery story roasted chicken, with meat separated
16 cups low sodium chicken broth
1/2 cup onion
2 carrots, peeled and thinly sliced
2 celery stalks, sliced
1 cup frozen or fresh chopped spinach
1/3 cup star pasta
1 cup chopped chicken from store bought chicken
1 tablespoon basil
1 teaspoon red pepper flakes


Combine chicken broth and chicken carcass in a large pot. Bring to a boil. Reduce heat and simmer about twenty minutes. Using tongs, remove chicken carcass. Cool slightly and remove fat from the top of the broth.

Return broth to a simmer. Add carrots, onion and celery. Salt and pepper to taste. Simmer until vegetables soften, about 8 minutes. Add spinach, basil, red pepper flakes and bring to a boil. Add star pasta. Boil until pasta tender. When pasta tender, reduce until soup is simmering. Add chopped chicken. Salt and pepper to taste. Serve imme.