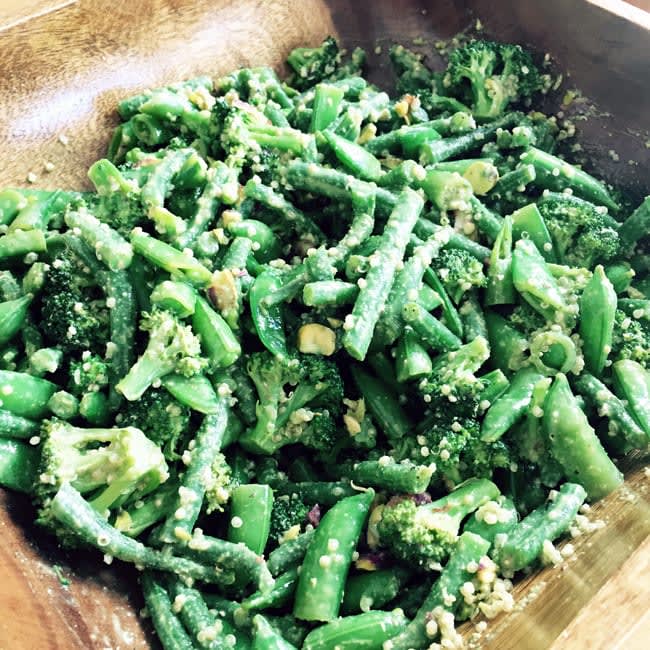 Last weekend, I went to a cook out and brought this salad. It was a hit and I'm making it again for dinner this week. Enjoy!
Farmers' Market Quinoa Salad
Ingredients
1/2 cup pistachios
8 oz. green beans
4 oz. sugar snap peas
1/2 cup chopped fresh herbs (I used basil, parsley, and chives. Can also add tarragon and dill)
1/3 cup olive oil
2 Tbsp white wine vinegar
2 tsp dijon mustard
salt and pepper to taste
1 large head of broccoli, chopped (about 1 1/2 cups)
2 cups pea shoots (tendrils)
1 cup cooked quinoa (from about 1/3 cup raw)
Preparation
Cook green beans, sugar snap peas and broccoli in a pot of salted water until no longer raw but still crunchy, about 2 minutes. Using a slotted spoon, transfer to a bowl of ice and let sit until cold, about 3 minutes. Drain, pat dry, and thinly slice into bite size pieces.
Blend herbs, oil, vinegar, mustard and 2 Tbsp of pistachios in a blender, adding water by tablespoonful if dressing too thick, until smooth and consistency of heavy cream. Season with salt and pepper.
Toss beans, peas, broccoli, pea shoots, quinoa and remaining pistachios in a medium bowl to combine. Drizzle salad with dressing and toss again to coat everything. Season with salt and pepper.
recipe via bon appétit