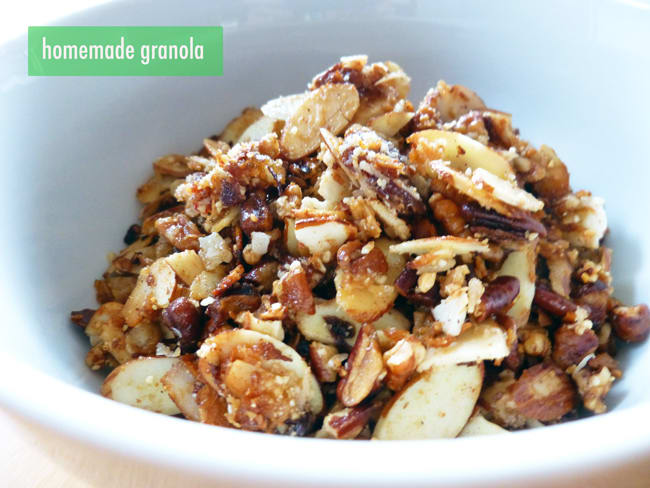 At the beginning of September, I discovered that grains and I aren't friends. It wasn't a fun realization. As someone who loves food and especially loves all forms of grains (no more bread or pasta. %*&$), it was depressing. However, I can't deny how much better I feel since eliminating them from my diet. I've been cautiously experimenting with recipes and this granola is the first successful endeavor and it's DELICIOUS. I'll be making double batches in the future.
homemade granola
INGREDIENTS:

1 cup blanched, sliced almonds
1 cup chopped pecans
1/2 cup pitted dates, chopped
1/3 cup unsweetened shredded coconut
1/4 cup almond flour/meal
1/3 cup coconut oil, melted and slightly cooled
2 tbsp maple syrup
2 tsp vanilla extract
pinch of cinnamon + sea salt
DIRECTIONS
Pre-heat the oven to 350F. Line a baking sheet with parchment paper and set aside.
In a medium bowl, mix all of the ingredients. Turn the mixture out onto the baking sheet and spread into a thin, even layer. Bake for 15 minutes, stirring the mixture halfway through the baking process. Let cool completely before serving to ensure that the granola will harden into clusters.
recipe (slightly modified) via
love.life.eat
(fyi: the author of this website is going through a similar experience and is a great source of recipes. I also love the way she writes.)