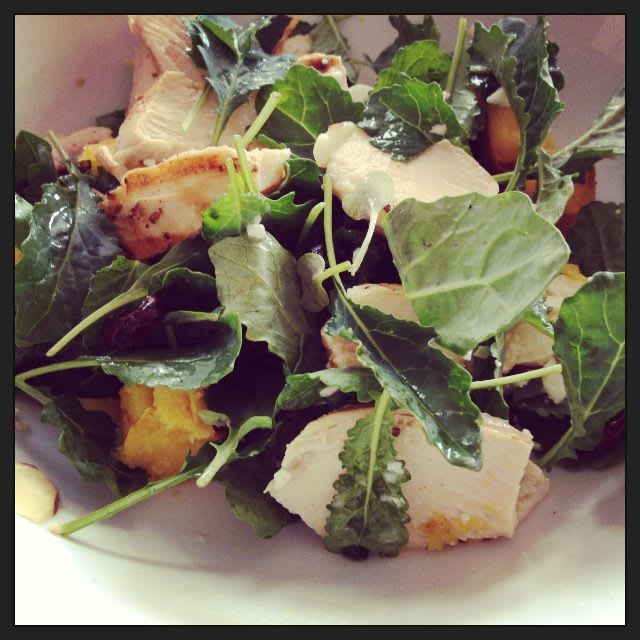 I know the kale salad trend is waning but for me, it's just beginning. A couple years ago, my husband tried to make kale chips and they were gross. It was a fluke because kale is delicious! We've been adding it to our daily veggie mix and it's a nice change from arugula. Bon appétit.


Kale Salad with Butternut Squash and Chicken
Ingredients
Juice of 1/2 lemon
1/2 shallot, chopped
1 teaspoon honey
1/2 teaspoon kosher salt
1/4 teaspoon red pepper flakes
2 bunches kale, stems removed, leaves shredded or finely chopped
2 tablespoons extra-virgin olive oil
1/3 cup sliced almonds
1/2 cup chopped, roasted butternut squash (I sprinkled cinnamon on mine instead of vinegar)
2 tablespoons crumbled goat cheese
3 tablespoon dried cranberries
1 grilled boneless breast of chicken, chopped
Preparation
In a bowl, whisk juice, shallot, honey, salt and pepper flakes. Add kale; toss well. Let sit 20 minutes. Mix in oil. Refrigerate for up to 1 day, or serve immediately. Add almonds, goat cheese, butternut squash and chicken to kale; serve.