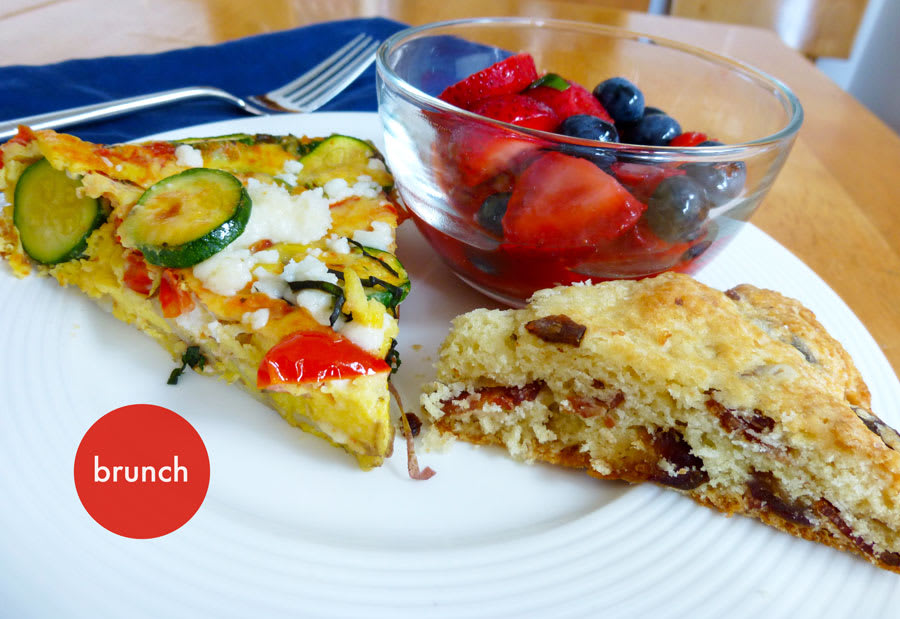 Making brunch is something I rarely do. Every once in a while, my work schedule clears and I get to spend a perfect afternoon feeding good friends. My go-to brunch menu is a vegetable frittata, fruit salad and bacon and date scones. Delicious and easy. Enjoy!


Vegetable Frittata
6 large eggs
6 large fresh basil leaves, chopped
1 tablespoon chopped shallot
1/4 teaspoon salt
1/4 teaspoon black pepper
3 new potatoes, sliced thinly
1 tablespoon olive oil
1 lb medium zucchini (about 3), sliced in thin rounds
1 cup grape tomatoes, halved
1/2 cup ricotta salata or queso fresco
Preheat oven to 350.
Whisk together eggs, basil, salt, and pepper in a bowl.
Cook shallots in oil in a 12-inch ovenproof nonstick skillet over moderate heat, stirring, until translucent. Add potatoes to the bottom of the pan. Bake potatoes for 20 minutes. Remove from oven and cool. Pour half of egg mixture over potatoes. Add zucchini and tomatoes. Covered with the rest of the egg mixture. Crumble 1/2 cup ricotta salata on top of egg mixture. Bake in oven for fifteen minutes, until eggs are set. Turn on broiler and broil top for 5-6 minutes, until top is browned. Remove from oven. Sprinkle 1/2 cup cheese evenly over top Cool frittata 5 minutes, then loosen edge with a clean spatula and slide onto a large plate. Cut into wedges.
Bacon and Date Scones
Ingredients
10 ounces thick-cut bacon slices
2 cups all purpose flour
1/2 cup sugar
1 1/2 teaspoons baking powder
3/4 teaspoon baking soda
1/2 teaspoon coarse kosher salt
3/4 cup coarsely chopped pitted Medjool dates
1/2 cup (1 stick) chilled unsalted butter
2/3 cup buttermilk
Raw sugar
Preheat oven to 400°f. Line baking sheet with parchment paper. Cook bacon in heavy large skillet over medium heat until cooked through but still tender and not crisp, turning occasionally. Transfer bacon to paper towels to drain; cool. Pour bacon drippings from skillet into small heatproof bowl and reserve.
Whisk flour, 1/2 cup sugar, baking powder, baking soda, and salt in large bowl. Coarsely chop cooled bacon. Add bacon and dates to flour mixture; toss to coat. Coarsely grate butter into flour mixture. Using fork, stir in butter. Add buttermilk; stir until large moist clumps form. Using hands, knead mixture briefly in bowl until dough forms.
Transfer dough to floured work surface. Pat into 8-inch round. Cut into 8 wedges. Transfer scones to sheet. Cover and chill scones 2 hours. Brush with reserved bacon drippings. Sprinkle with raw sugar.
Bake scones until golden brown and tester inserted into center of scones comes out clean, 16 to 18 minutes. Serve warm or at room temperature.
Fruit Salad with Citrus Syrup
Ingredients
1 pint strawberries, hulled and halved
1 half.jpgnt blueberries
1 tablespoon chopped, fresh basil
(you can add whatever type of fruit you'd like to this mix. I had blueberries and strawberries on hand)


Citrus Syrup
1/4 cup orange juice
1/4 cup freshly squeezed lime juice
2 tablespoons sugar
Combine the juices and sugar in a small saucepan and boil for 2 to 3 minutes over low heat. Remove from the heat and let cool. Pour the cooled syrup over the fruit mixture. Add chopped basil. Serve immediately.
All recipes from
epicurious.com