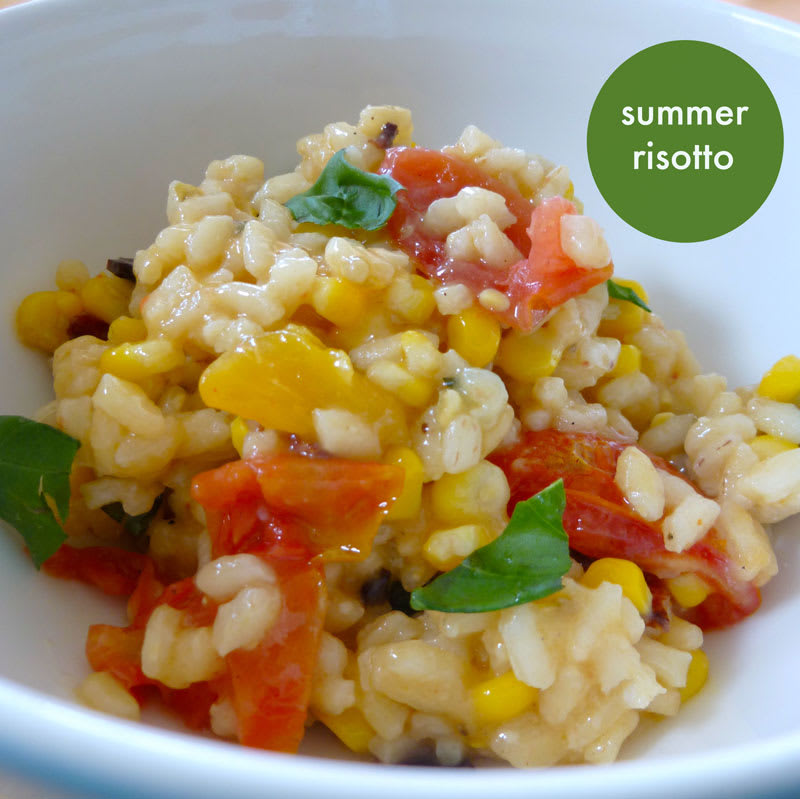 I love risotto. It's delicious in every season. My favorite summer version features whatever is fresh at the farmer's market. Last weekend, my husband made this fantastic version with tomatoes, corn, bacon and basil. It was a show stopper. He served it with grilled chicken and big salad…yum!
Risotto with Corn, Tomatoes, Bacon and Basil
Ingredients
1 cup of corn (we used corn cut off the cob but you can use canned)
2 tablespoons olive oil
2 cups heirloom tomatoes, chopped
2 tablespoons chopped fresh basil or 2 teaspoons dried
2 slices bacon (we used turkey bacon)
5 3/4 cups (about) chicken stock or canned low-salt broth
1 1/4 cups finely chopped onion
1 1/2 cups arborio rice or medium-grain white rice
1/4 cup dry white wine
2 cups stemmed baby spinach
2 tablespoons freshly grated Parmesan cheese
1 tablespoon unsalted butter
Additional freshly grated Parmesan cheese
Preparation
Bring 5 1/4 cups chicken stock to simmer in large pot. Reduce heat to low; keep stock hot.


Heat 2 tablespoons oil in heavy large saucepan over medium heat. Add onion and sauté 2 minutes. Add rice; stir 3 minutes. Add wine; stir until liquid is absorbed, about 2 minutes.

Add 1 cup hot stock. Simmer until liquid is absorbed, stirring often. Continue adding stock 1/2 cup at a time until rice is tender but still slightly firm in center and mixture is creamy, simmering until stock is absorbed before each addition and stirring often, about 25 minutes.


Mix corn, tomatoes, bacon, 2 tablespoons Parmesan cheese and butter into risotto. Stir in 1/2 cup chicken stock to moisten if necessary. Season to taste with salt and pepper. Stir in fresh basil. Serve immediately.


photo by me