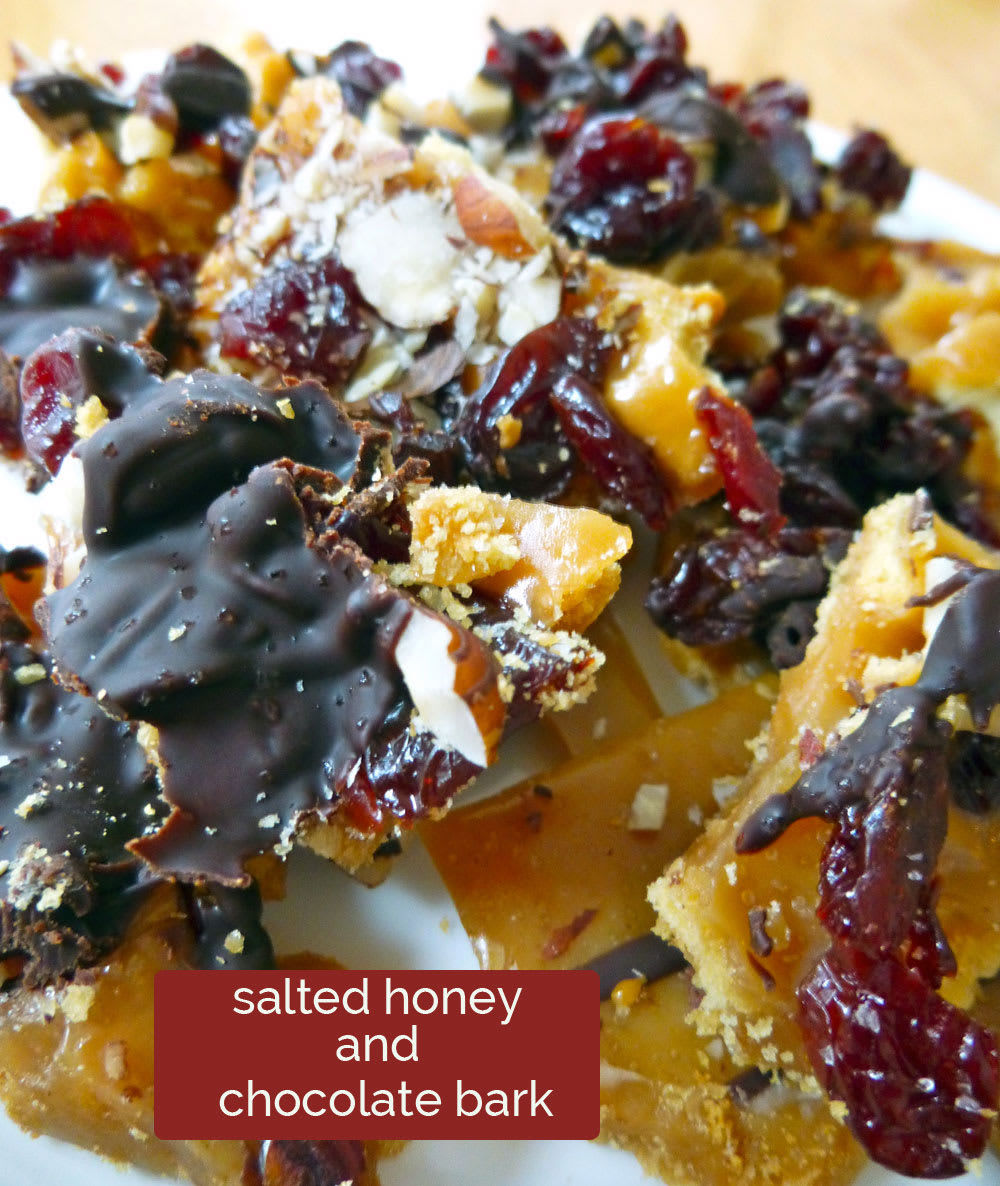 Every year, I make a new dessert for my "
dirty santa"
party. Last year, I baked
salted caramel brownies
. This year, I made salted honey and chocolate bark after a reader request (thanks for reading, Val). I almost didn't make it. For some reason, it had terrible reviews on
epicurious
. Clearly those people were cranky because this stuff is amazing. So good, I *might* have made two additional batches to give as gifts. In other words, TRY THIS RECIPE and prepare to be obsessed.
salted honey and chocolate bark


ingredients
12 ounces saltine or Ritz crackers (i used Ritz crackers)
1 cup sugar
1/2 cup honey
1/2 cup (1 stick) unsalted butter, cut into pieces
1 teaspoon baking soda
6 ounces bittersweet or semisweet chocolate, melted
1/2 cup dried tart cherries or sweetened dried cranberries (i used dried cherries)
1/4 cup hazelnuts, chopped
2 teaspoons flaky sea salt (such as Maldon)
Special equipment: A candy thermometer
preparation
Preheat oven to 350°F. Using your hands, coarsely crumble crackers onto a parchment-lined baking sheet. Toast in oven until golden brown, 8–10 minutes. Transfer baking sheet to a wire rack and let crackers cool.
Meanwhile, heat sugar, honey, and butter in a medium saucepan over medium-high heat, stirring occasionally, until butter is melted. Fit saucepan with thermometer and cook, whisking frequently, until thermometer registers 300°F, 8–10 minutes. Remove from heat and stir in baking soda (mixture will bubble vigorously). Quickly pour mixture over crackers, spreading to coat evenly. Add cherries and hazelnuts. Drizzle chocolate and sprinkle with salt. Chill until chocolate is hardened, at least 10 minutes. Break bark into pieces.
MAKE AHEAD:
Bark can be made 3 days ahead. Wrap tightly and keep chilled.

adapted from epicurious.com's recipe found here