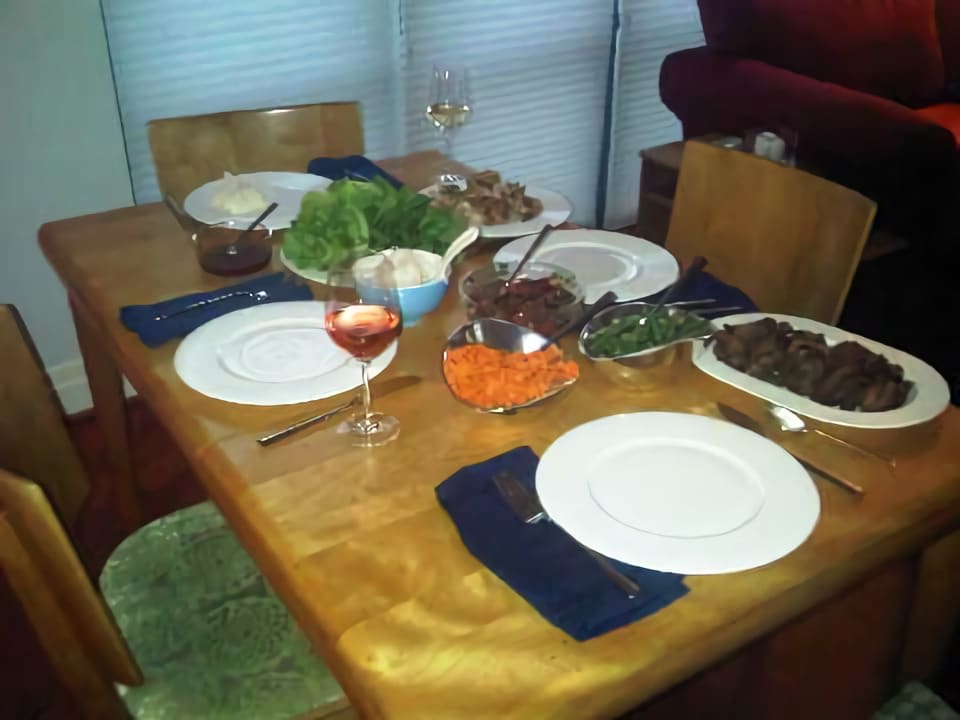 Dinner last weekend
I'm loving the Korean BBQ trend that's appearing in the latest cooking magazines. I've been enjoying this type of food for years since my husband is half Korean. As you can see from the picture above, he whips up a fantastic version of Beef Bulgogi.
This particular evening we had a Tex Mex/Korean night. He made the Beef Bulgogi mentioned previously. He also grilled pork that he'd marinated in chili powder, lime, and Montreal Steak seasoning (I know that seems random but it's delicious on everything). We had lettuce leaves for the beef and corn tortillas for the pork. He also made a black bean, corn, and tomato salsa.
Our sides were absolutely delicious as well. First, there was a carrot, cilantro, and chile slaw. My friend brought a green bean salad with an Asian-style dressing. Sounds like a hodgepodge of items but the cold veggie sides with the lettuce wraps and tacos were a delicious combo.
If you haven't indulged in this trend yet, give it a whirl. It's fantastic!
Beef Bulgogi
Ingredients
1/4 cup low-sodium soy sauce.
2 tablespoons sugar.
1 tablespoon Asian (toasted) sesame oil.
1 tablespoon mirin (Japanese sweet rice wine).
1/4 Asian pear, coarsely grated (about 1/4 cup).
1/2 medium onion, coarsely grated (about 1/2 cup).
2 cloves garlic, minced (about 1 teaspoon).
1/2 teaspoon fresh ginger, peeled and finely grated.
1 teaspoon sesame seeds, toasted, plus additional for garnish.


1/4 teaspoon freshly ground black pepper.
1 pound beef sirloin, trimmed of excess fat and thinly sliced.
2 tablespoons vegetable oil.
8 red leaf or bibb lettuce leaves, for serving.
1 cup cooked white rice, for serving.
1/2 cup kimchi, for serving.
1 cup fresh enoki mushrooms, trimmed.
4 teaspoons hot bean paste.
Preparation
In a large bowl, whisk together soy sauce, sugar, sesame oil, mirin, pear, onion, garlic, ginger, sesame seeds, and pepper. Let marinade stand 30 minutes at room temperature, then add beef and toss to coat. Refrigerate, covered, for 1 hour.
In a large skillet over moderately high heat, heat oil. Remove beef from marinade, draining it very briefly over a bowl to remove excess liquid, and then cook until browned and done medium-well, 6 to 7 minutes.
Remove beef from heat and serve by filling each lettuce leaf with about 2 tablespoons Korean sticky rice, a small handful of beef, 1 tablespoon kimchi, about 8 enoki mushrooms, and about 1/2 teaspoon hot bean paste. Serve immediately.