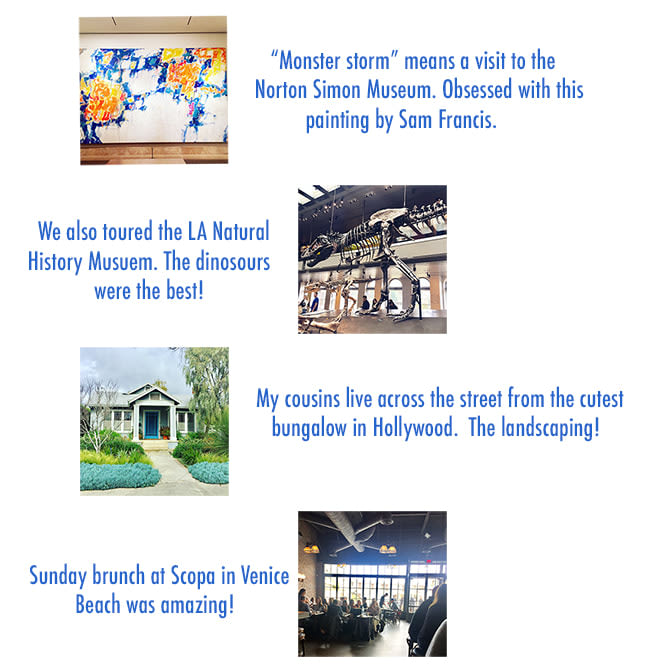 My trip to LA over President's Day weekend was a ton of fun. The only downside: the weather! The weekend we were there, LA had a "monster storm" and it rained like crazy two out of the five days we were visiting. Figures. They've had a drought for four years but the weekend we visit, it's a deluge.
We spent a couple of days in Pasadena with my Aunt and Uncle then moved on to LA. While in Pasadena, we ate at wonderful restaurants and visited the
Norton Simon Museum
. The museum was incredible and had a mix of old Masters and modern art. I found a new artist that I like: Sam Francis. I'd never heard of him but I loved the "Basel Mural 2". I wish I could recreate it.
On Saturday, we met up with more family but on the Angotti side. We spent the day with them at the LA Natural History Museum and then checked out their neighborhood in Hollywood. It was cute! California has an interesting mix of housing styles and I enjoyed gawking. Always a real estate agent.
We stayed at Santa Monica pier at the
Shore Hotel
for the rest of our visit. A few of my DC friends have absconded to LA and live in Venice Beach. Santa Monica was the perfect location between Hollywood and Venice. Saturday and Sunday we spent hanging out in Santa Monica and Venice. Saturday evening we ate at
Michael's
(which was seriously amazing) and Sunday we had brunch at
Scopa
. Venice was adorable and I loved all the shops on Abbot Kinney Rd.
Although we managed to pack a lot of visiting and wandering while we were there, there are still neighborhoods that I want to explore. Next visit!