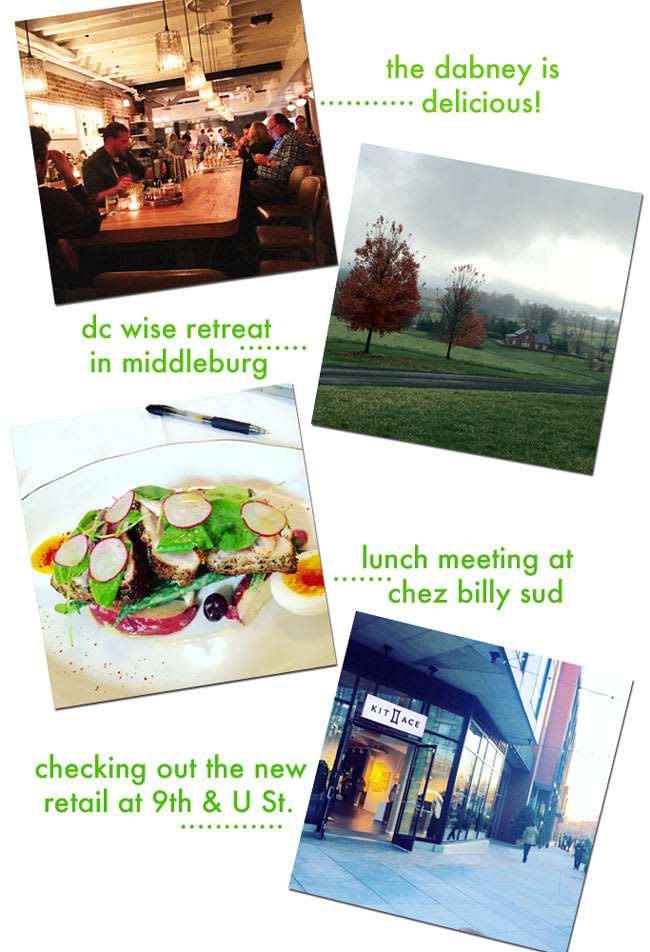 I don't know about you, but the last two months have gone by at warp speed. I've been swamped at work (yea!) but I've also been having a lot of fun.
Have you been to
The Dabney
yet? I've been twice and I'm completely obsessed with the place. The food is delicious and the service is A+. No wonder it's getting rave reviews!
I went on a
DC Wise
retreat to Middleburg. We had lunch at
The Salamander
(so pretty) then ventured to two vineyards:
Boxwood
and
RdV
. It was a fun day and we did a lot of planning for our events next year. Get ready!
I had a lunch meeting at
Chez Billy Sud
and enjoyed a wonderful Nicoise salad. I'm obsessed with Nicoise salads and this version was beautiful and tasty. I'll be back!
The new retail at the corner of 9th and U St. is ridiculous! I can't believe this is down the street from my house!! As you can tell from the number of exclamation marks, I'm excited the shops,
movie theatre
and
Glen's Market
have opened. My neighborhood just keeps on getting better. Now bring on the Whole Foods!