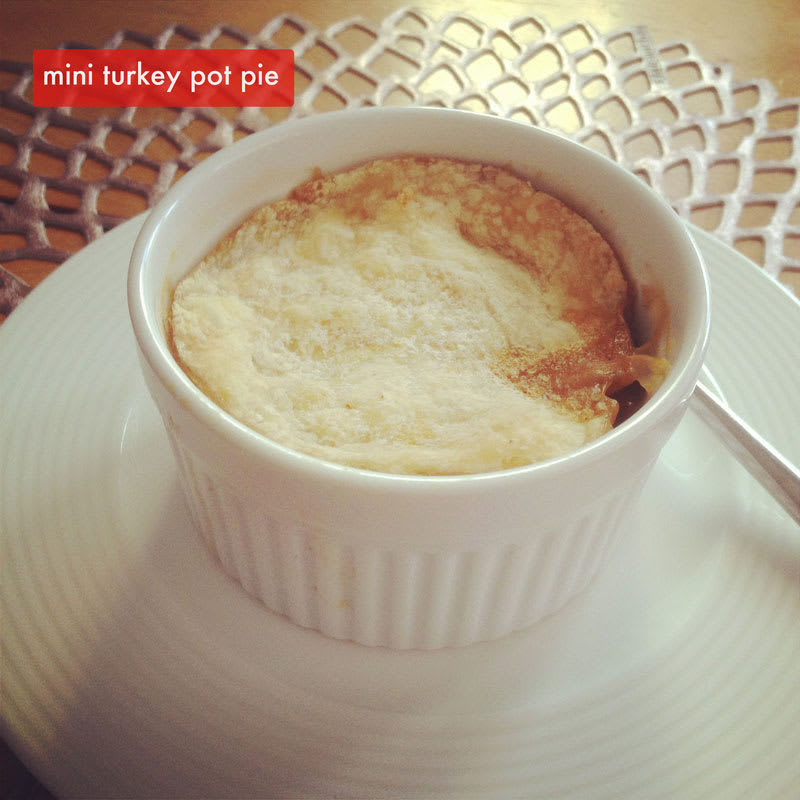 My husband is a genius in the kitchen. I used to cook all the time but his natural talent soon outshone my lackluster results. His latest creation was the mini turkey pot pies that he whipped up on Sunday using Thanksgiving leftovers. It was divine! Chicken can easily be substituted in this recipe and wa-la: you have perfect dinner party fare.
Mini Turkey Pot Pies
ingredients:
1 tablespoon unsalted butter
1 tablespoon extra-virgin olive oil
1 cup chopped onion
6 ounces button mushrooms, stems trimmed, caps cut in half then thickly sliced crosswise
1 cup thinly sliced peeled carrots (about 2 carrots)
1/2 cup diced leftover cooked vegetables (optional)
1 1/2 cups diced cooked turkey (7 to 8 ounces)
1 to 1 1/4 cups gravy
1 teaspoon chopped fresh thyme
1/4 cup frozen green peas, thawed
1 tablespoon chopped fresh Italian parsley plus additional parsley leaves for crust
1 egg white, beaten to blend with 1 teaspoon water (for glaze)
1 9-inch purchased pie crust
Preheat oven to 400 degrees.
Melt 1 tablespoon unsalted butter with 1 tablespoon extra-virgin olive oil in heavy large skillet over medium-high heat. Add chopped onion and sauté until golden, 7 to 8 minutes. Add sliced mushrooms; sprinkle with salt and pepper. Sauté until browned and tender, about 4 minutes. Add sliced carrots; cover and cook until carrots soften slightly, about 2 minutes. Add leftover vegetables, if desired. Add diced turkey, gravy, and chopped fresh thyme. Bring filling mixture to boil; reduce heat to low and simmer to thicken if necessary. Season to taste with salt and pepper. Mix in peas and chopped parsley.
Roll out pie crust on a floured surface. Cut into four rounds the size of the ramekins. Fill ramekins with filling mixture. Top with pie crust. Brush pie crust with egg whites. Place on a cookie sheet and bake until the crust is golden brown or about 22 minutes.
Serve immediately and enjoy!
Recipe adapted from
epicurious