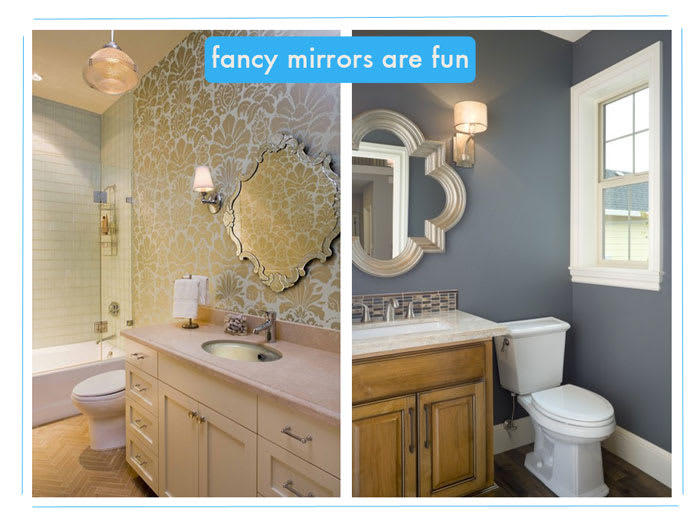 Next on my home improvement agenda is updating my master bath light fixture and mirror. After the endless spackling in the guest bath, I determined another round mirror was not an option. Seeking inspiration, I began gazing at bathroom images. I was leaning towards a square mirror (less work) but concluded that was boring. After a lot of contemplation, I decided an octagon might be interesting. That led to my discovery of the quatrefoil mirror and finally... I had a winner.
Finding a quatrefoil mirror that fits the space and my budget was a challenge. My favorite was
Restoration Hardware
but it cost over $700. After a lot of searching, I found one from
Lowe's
that seemed like it should work. Except the closest Lowe's is somewhere in MD and the delivery fee was $75 (!). So I called my Dad, who loves Lowe's and goes once a week. Being the nice guy that he is, off he went to collect it. He going to ship it to me this week.
My next dilemma was the light fixture. A quatrefoil mirror is a traditional shape. My bathroom is modern. How was I going to mix a modern light fixture with a traditional mirror? All the photos I'd pulled for inspiration showed scones. My light fixture is mounted above the mirror. *sigh* This is why people hire interior designers. After considering ten different light fixtures, I found one that mimics the shape of our Moen faucet. It's sleek yet simple. Hopefully, it will look as fantastic as I've imagined.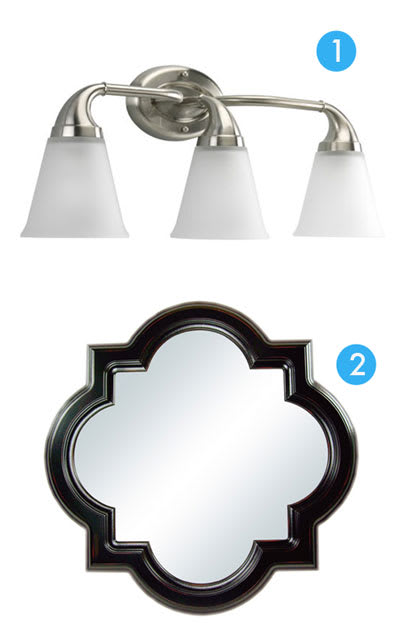 Photos via Houzz