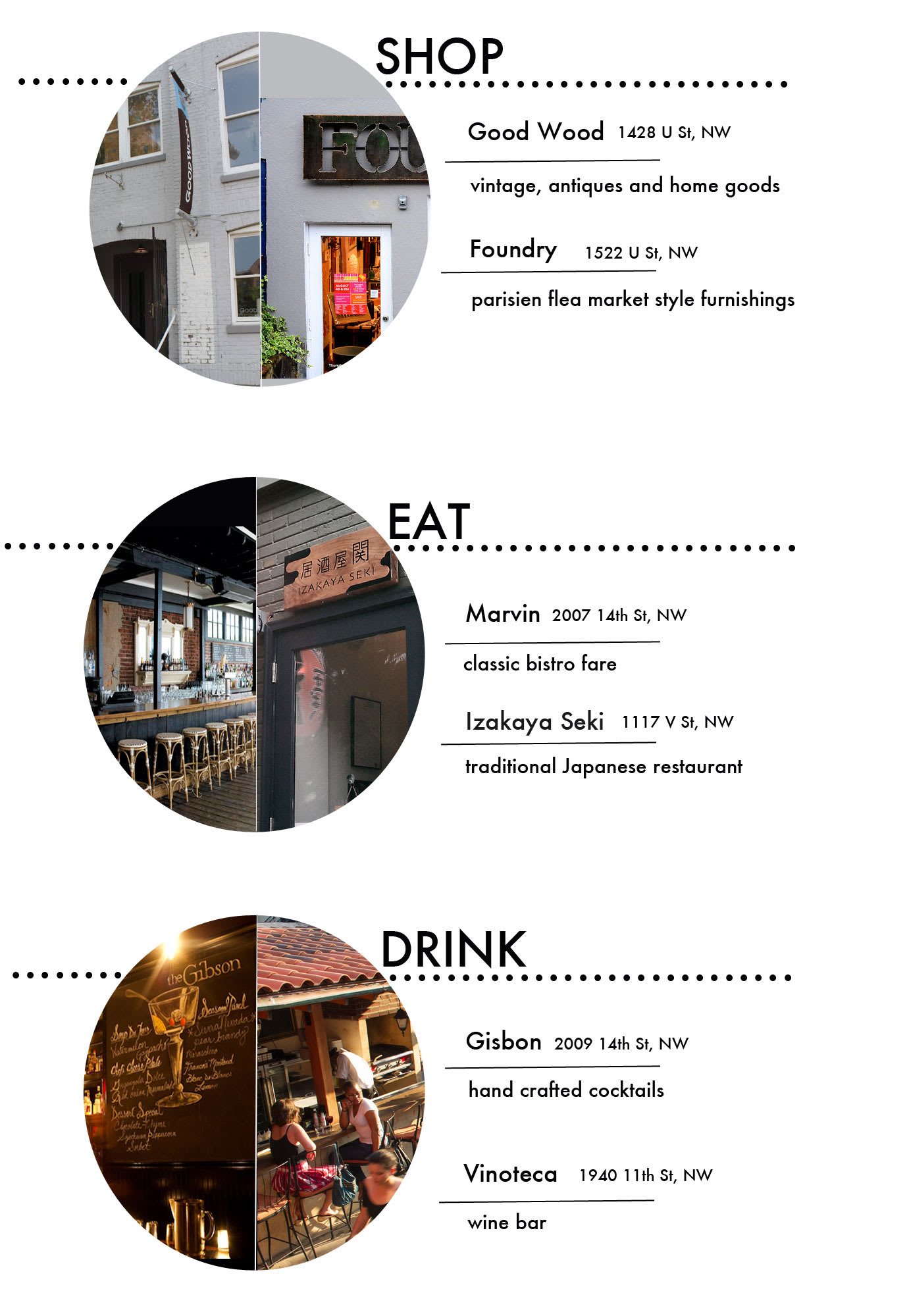 New feature! Neighborhood guides. This is something I've wanted to do for a long time. I've lived in DC for fourteen years (!?!) and I have my fair share of special spots. As a realtor, I also think it's important to have a working knowledge of fun places in various neighborhoods. I can't highlight every treasured locale. There's too many. Instead, I've limited myself to my favorite home stores, restaurants and bars. Everything you need when you're visiting a new neighborhood, right?
I'm starting with U St., NW, my beloved slice of DC. I've lived on U St. Corridor since 2007. It's changed dramatically in those six years. Many new buildings have been built, both apartments and condos plus tons of restaurants and retail.


Shop
at
Good Wood
and
Foundry
. Both offer something unique. Neither store offers the average big box fixings. Think antique and vintage, one of kind pieces at reasonable prices.
Eat
at
Marvin
and
Izakaya Seki
. Marvin offers consistently tasty bistro fare. I love their chicken and waffle, their grits (their brunch rocks) and their grilled fish. I know it's a strange mix but it's always delicious. Izakaya Seki offers traditional Japanese food. There's sushi, izakaya (grilled skewers) and a number of interesting dishes.
Drink
at the
Gibson
and
Vinoteca
. The Gibson is a favorite because it's always an "experience". The bar is beautiful; dark and intimate. The cocktails are hand crafted and exceptional. It's perfect place to take out of town guests for a rare adventure. Vinoteca is one of my regular neighborhood joints. Mostly because it has an unbelievable happy hour from 5-7pm with $5 glasses of wine. They don't serve your typical HH swill and that makes me happy. I also love their plaza in the back. It's my favorite place to be on a sunny afternoon.