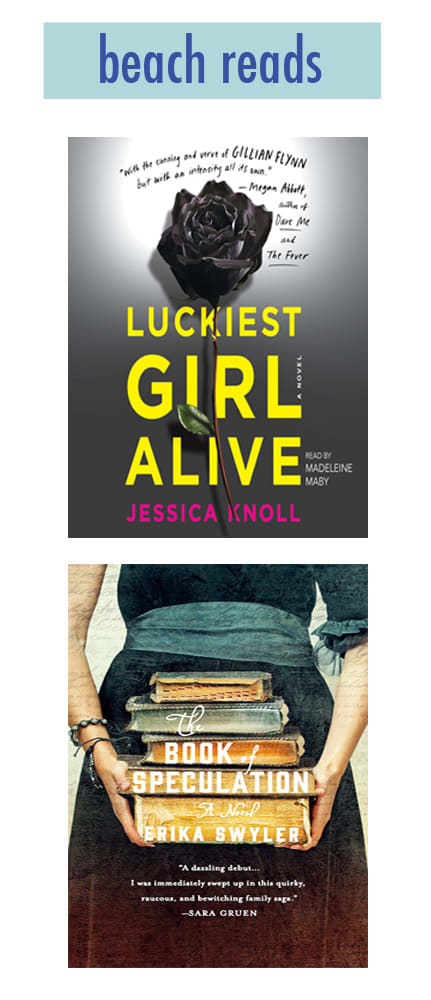 Last week, seven books from my library reserved list hit at once. Most people would be overwhelmed. I was pumped! Out of the seven, The Luckiest Girl Alive and The Book of Speculation were my favorites.
I thought The Luckiest Girl Alive was going to be the typical "fashion girl in her 20's" book. Nope. It's twisted, dark and completely engrossing. It also had an unexpected plot twist. I love when I'm surprised by the story. I read so much it rarely happens.
The Book of Speculation is one of those strange tales about a weird family. There's tarot card readings and freaks. If you're into American Horror Story, this will book will appeal to you.
I also received the new Judy Blume In the Unlikely Event (meh), The Stranger by Harlan Coben (great thriller), The Royal We by Heather Cocks and Jessica Morgan (the premise is so silly but highly entertaining), The Primates of Park Avenue by Wednesday Martin (bluck). I'm leaving out one because it's too embarrassing to admit I read it (a trashy, romance novel by Johanna Lindsey). I also purchased The Color of Circles by Lindsay Ashford (decent but check it out from the library), You Should Have Known by Jean Hanff Korelitz (predictable but entertaining nonetheless), The Precious One by Maria de los Santos (LOVED it). Is it ridiculous I read 10 books in a week? Yes but if you could, wouldn't you?