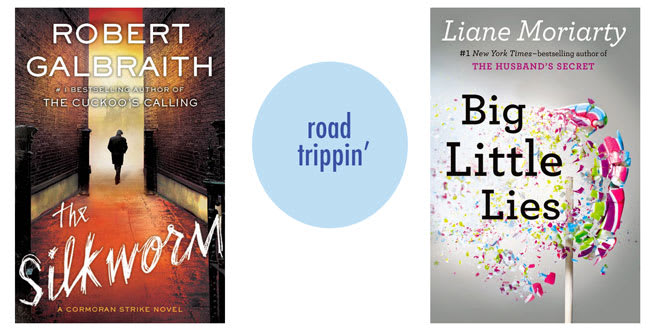 On Saturday, I'm going to a wedding in the Poconos Mountains. It's one of my husband's cousins and I'm hoping to see some pretty scenery. It should be peak season for Fall leaves and it'll be nice to be out of town for a day. We're driving and that means a lot of uninterrupted time to read! My two favorite books lately have been The Silkworm by Robert Galbraith (aka JK Rowling) and Big Little Lies by Liane Moriarity. Both are mysteries and the pace in both is electric.
One of my favorite characters in literature today is Cormoran Strike, the protagonist in The Silkworm. He's gritty, stalwart and loyal yet his foibles are many. As a reader, I'm immediately rooting for him. I read The Silkworm in one sitting and I can't wait for the next novel in the series.
I didn't like The Husband's Secret by Liane Moriarity and I didn't expect to like Big Little Lies. However, I LOVED it. There's a huge twist and I didn't figure it out. Which is amazing because usually I can predict the plot twist on page 10. Read it now!
Do you have any recommendations for my trip??