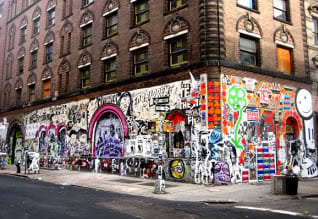 NYC was a much needed respite. Most people would think: hectic city crawling with people? Refreshing? To a city lover like myself, yes. It was absolutely lovely.


My friend's apartment is in Nolita. I knew *in theory* what this meant but when we arrived it became clear. It was a kick ass location. Shops and restaurants galore within blocks of the apartment. This was going to be fun!


By the time the we arrived, picked up keys and located the apartment, it was about 3pm. I had a couple of shops I wanted to check out so off we went. I've been reading about
Uniqlo
on the fashion blogs for years. It's the first place we stopped. It's described as a Japanese H&M; and it was mobbed with people. They've partnered with Jill Sander in 2010 and are putting out an incredible collaboration called
+J
. It has beautiful, clean lines but all of it was teeny tiny. It's made for the small, petite people of the world. I might be petite but I'm certainly not small. After petting all the +J clothes and checking out a few other shops, we realized it was time to get moving for our dinner reservation at 15 East.
15 East topped our expectations. My husband, who is a notorious nit picker when it comes to restaurant reviewing, had "the best sushi experience of his life." Considering the amount of sushi he's eaten in his life, that's high praise.


Our next stop was
Milk Bar
which is the dessert arm of Momofuku. My husband is obsessed with all things Momofuku and it's infamous chef
David Chang
. We shared a piece of crack pie. There's a reason it's called crack pie. You want eat
MORE
even though it's really rich and making you slightly sick to your stomach. After the crack pie, we wandered down the street to
Bar Veloce
for some wine and then headed back to the apartment.
The next day, we got up at the crack and ambled uptown to
Eataly
, a 50,000 square foot store of Italian goodies. Pictured below is the fresh pasta counter. That was a small portion of the options. It was incredible, mouth watering experience. We wandered the store, drank coffee and wished for one in DC.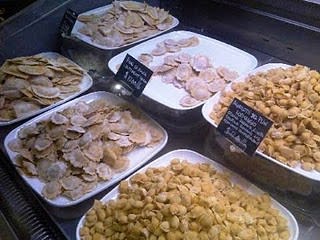 On the way back downtown, we stopped at
ABC Home and Carpet
. This is another store I've been reading about for years in design magazines. It blew my mind. I found a rug I first glimpsed in Lonny Magazine and a million other things I wanted. It's fun to dream!
Then we hiked back to Nolita for our reservation at
Lupa
. After walking over two miles, we were both hungry and Lupa didn't disappoint. After a leisurely lunch that included wine and lemoncello (hello..I was on vacation!!), I was done. It was nap time.
Refreshed by my nap, I continued to meander the streets of Nolita pretending I was a New Yorker. I had a drink at
DBGB
, checked out more shops and canceled the reservation at 'inoteca. After seeing the hubbub at Milk Bar, which is connected to the
Ssam
Bar, we decided to check out Ssam Bar instead. It too lived up to the hype. Although Korean food does not agree with me and that curtailed the rest of our evening, I still enjoyed the experience. It's not everyday you see bunches of people gnawing on duck necks and hoovering pork buns. This is the best pork bun I've ever eaten and it's not to be missed. (Last bite of the pork bun about to be devoured by my husband pictured below)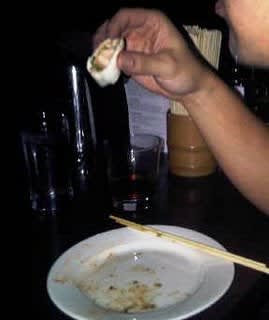 Overall, the weekend was a roaring success. I only thought about real estate once. When we were trekking back to Nolita for lunch, we passed a real estate office. I had to stop and check out the listings. Professional curiosity. This is what I found: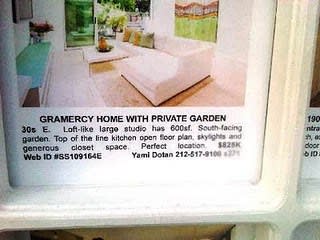 No wonder New Yorkers never blink at DC prices. A 600 square foot studio for 825K?????

That's insane! It's good to be back in DC.