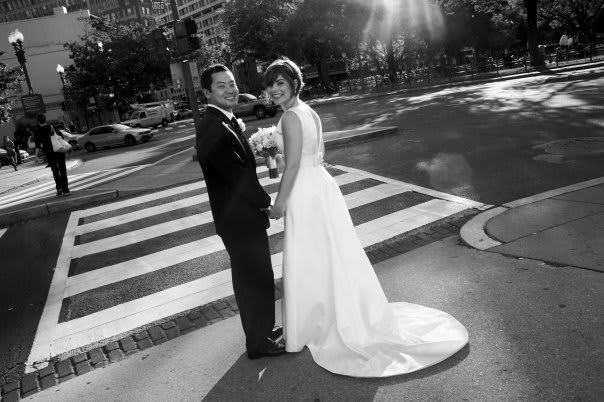 It's my four year anniversary today and I want to reminisce. I recently came to the realization that my wedding was a ton of fun. Anyone that's ever gotten married thinks their wedding is the best wedding ever and rightly so. It's a big day in your life. It BETTER be outstanding after planning for months and spending a lot of money. But really, mine was priceless (if I do say so myself).


Here's a few of my favorite memories:
1.) Shots of limoncello with my Mom, Dad and brother before I walked down the aisle.


2). My friend Katie singing "Ave Marie." I knew she could sing but I never imagined it would be so beautiful.


3). The ceremony performed by our family friend Tate. She rocked it.


4). My Dad as MC. The man loves a microphone, what can I say? I especially loved when he razzed my cousin Dave Oliverio, who happened to be striding across the dance floor as everyone was getting settled. Poor Dave. He was just looking for his seat.


5). My ex-Special Forces brother-in-law Jim springing to the rescue when the cousins table collapsed.


6). Seeing all my favorite people from near and far in one place to celebrate us.


7). The fantastic toast by Jason, the best man.


8). Watching everyone get down.
DJ D-Mac
was the man. My parents wanted Motown and we wanted old school (the good kind, thank you) hip hop. He melded the two perfectly and made our reception the ultimate dance party.
9). The dance off between my Dad and one of my husband's friends. Funniest. Thing. Ever.


10). My new husband. Smooches.