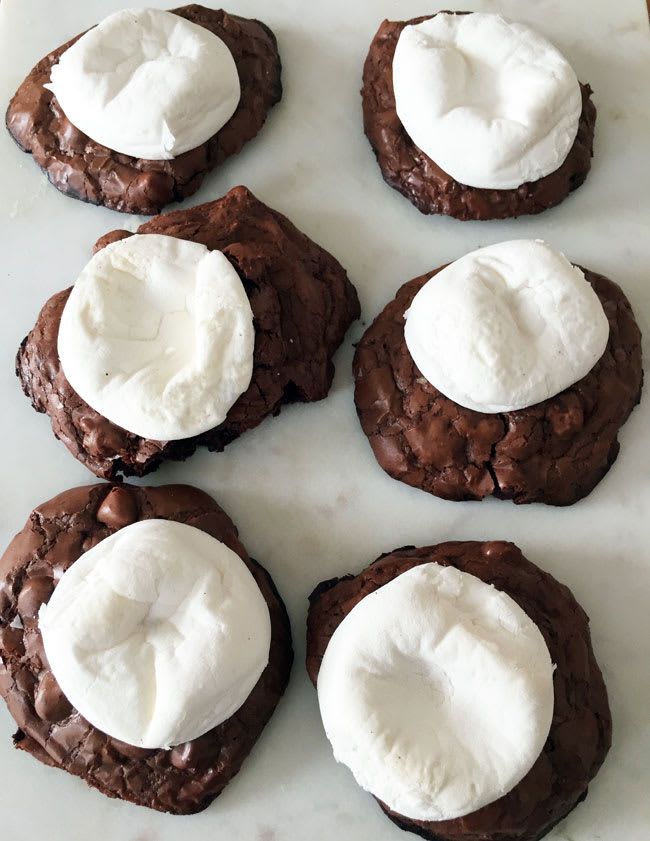 Last night, I hosted a Dirty Santa party for a few of my friends. We had a spirited gift exchange (these ladies aren't afraid to steal a present!) and enjoyed a hearty
chicken, white bean and green chili stew
. The highlight of these gatherings is always the dessert. This time I made a flourless chocolate cookie with a gooey marshmallow on top. It tastes exactly like a smore and they are divine. Enjoy!
Smores Cookies
Ingredients:
3 cups powdered sugar, sifted
3/4 cup unsweetened cocoa powder, sifted
1 Tbsp cornstarch
1/2 tsp espresso powder
1 tsp fine sea salt
1/4 tsp ground cinnamon
2 large egg whites
1 large egg
1 tsp pure vanilla extract
1 cup semisweet chocolate chips\
18 large marshmallows
1 oz semisweet or bittersweet chocolate, finely chopped (optional)
Instructions:

Preheat oven to 350 degrees F. In a large mixing bowl, sift together the powdered sugar and cocoa. Stir in the cornstarch, espresso powder, salt and cinnamon until well combined.
In a separate bowl, whisk together the egg whites and egg until light in color and completely scrambled. Stir into the dry ingredients until combined. At first it will seem like there isn't enough liquid – keep stirring and folding together until a thick batter forms. Stir in the vanilla and fold in the chocolate chips.
Spoon the batter in heaping tablespoons – it will be gloppy – onto a silpat or parchment paper-lined baking sheet, about 2-inches apart. Bake for 10 minutes, until the cookies begin to puff and crackle, then top each cookie with a marshmallow, and continue baking for another 4-6 minutes, until the marshmallows have puffed/melted and the cookies are set around the edges.
Remove from the oven and let cool and firm up on the baking sheet for 5 minutes. Sprinkle with chopped chocolate, if using. Transfer to baking racks to cool completely. Serve warm (and gooey)! These cookies are best eaten the day of, and will dry out quickly – Keep in an air-tight container.