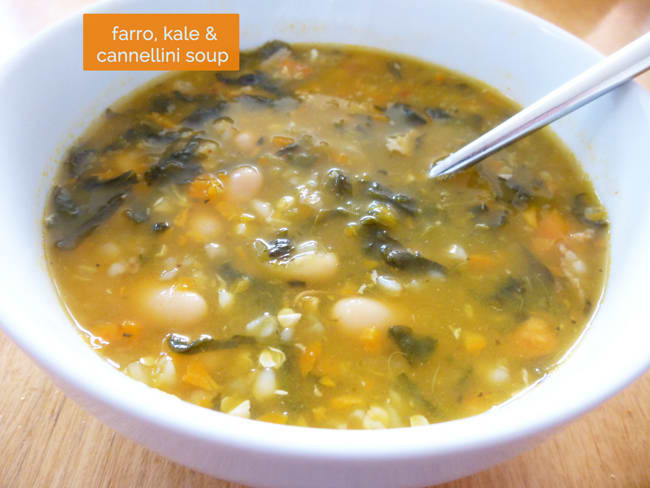 When the weather becomes chilly, I start craving soup. I have repertoire of favorite soup recipes from our restaurant but lately, I've been experimenting. I made this last week and I'm definitely adding it to my favorites. It's hearty, delicious and the perfect lunch or light dinner. Enjoy!
Farro, Kale and Cannellini Soup
ingredients
1/2 cup farro, picked over and rinsed (I used 1/2 a cup of buckwheat groats)
2 tablespoons olive oil
1 large onion, diced
1 medium carrot, diced
2 stalks celery, diced
2 strips of bacon, chopped
1 can cannellini beans, drained
1 32 oz. box of vegetable broth
1 teaspoon salt, plus more to taste
1 bunch kale (about 14 ounces) (I used a half a box of chopped, frozen spinach)
1/2 cup chopped fresh basil or parsley
1/4 cup Parmesan cheese
Freshly ground pepper to taste
Set the farro in a large bowl or spouted glass measuring cup and add ample cold water to cover. If you're using buckwheat groats, cook 1/2 cup of groats in 1 cup vegetable broth per the instructions on the package.
Heat 1 tablespoon of the oil in a large, heavy pot over medium ­high heat. Cook bacon. Stir in the onion, carrot, and celery. Cook until the onion softens, about 5 minutes.
Add vegetable broth and cannellini beans to the pot. Bring the liquid to a boil, then cover the pot and simmer 20-25 minutes.
Drain the farro. Add the farro (or buckwheat groats) and salt. Return to a boil, then cover and simmer for 10 minutes.
Meanwhile, prepare the kale: Discard a few inches of the tough root ends. Thinly slice the stems and coarsely chop the leaves. Rinse well by dunking it in a large bowl or sink full of water. Drain well. (If using chopped spinach, add now).


When the farro has simmered for 10 minutes, stir in the kale gradually, adding more as each batch wilts. Cover and continue cooking until the beans, farro, and kale are tender, usually 10 to 20 minutes more. Add the remaining tablespoon of oil, the basil, cheese, and salt and pepper to taste.