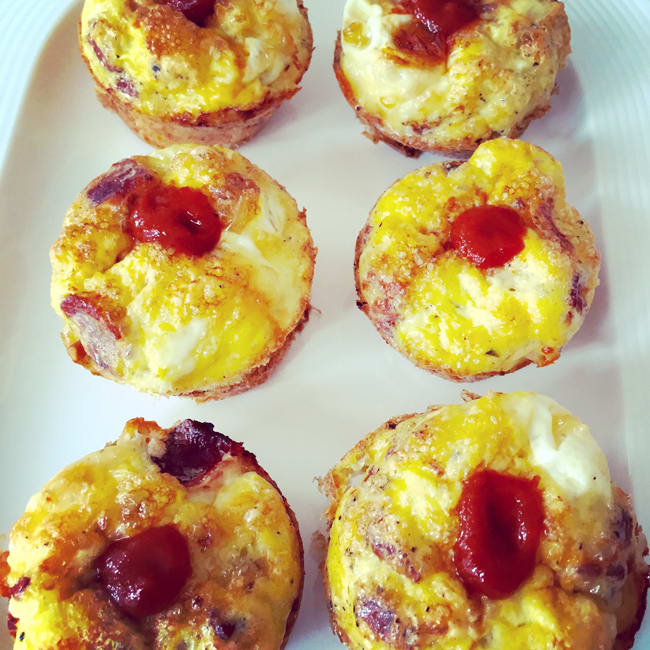 Spring has sprung and the season for guests is upon us. I love when friends and family visit because it's an opportunity to make something new. Last weekend, I made breakfast bites with sriracha, eggs, bacon and hash browns. This recipe has been making the rounds on the internet and I first saw it on
Designlovefest
. I adapted mine to the tastes of my guests who like things spicy. Enjoy!
ingredients:
8 eggs
1/2 package of hash browns
1/2 lb of bacon cooked and chopped
3 tablespoons pepper jack cheese
salt and pepper to taste
sriracha
half a cup shredded manchego cheese
Preheat oven to 400 degrees. I used a muffin tin to make these. Generously coat with cooking spray. In a medium sized bowl, mix the shredded manchego cheese with the hash browns. Fill the muffin tins with the shredded potato mixture and create craters with your fingers. Place the muffin tin in the oven and bake for about 25-30 minutes or until golden brown.
In a large bowl, whisk the 8 eggs together with finely chopped bacon, salt and pepper and pepper jack cheese. Once the hash brown cups have finished baking, add egg mixture. Place a dollop of sriracha in the center of each "muffin". Continue to bake 10-15 minutes or until eggs have fully cooked.
Cool for 5 minutes before removing from the muffin tin. Add another dollop of sriracha as garnish then serve.