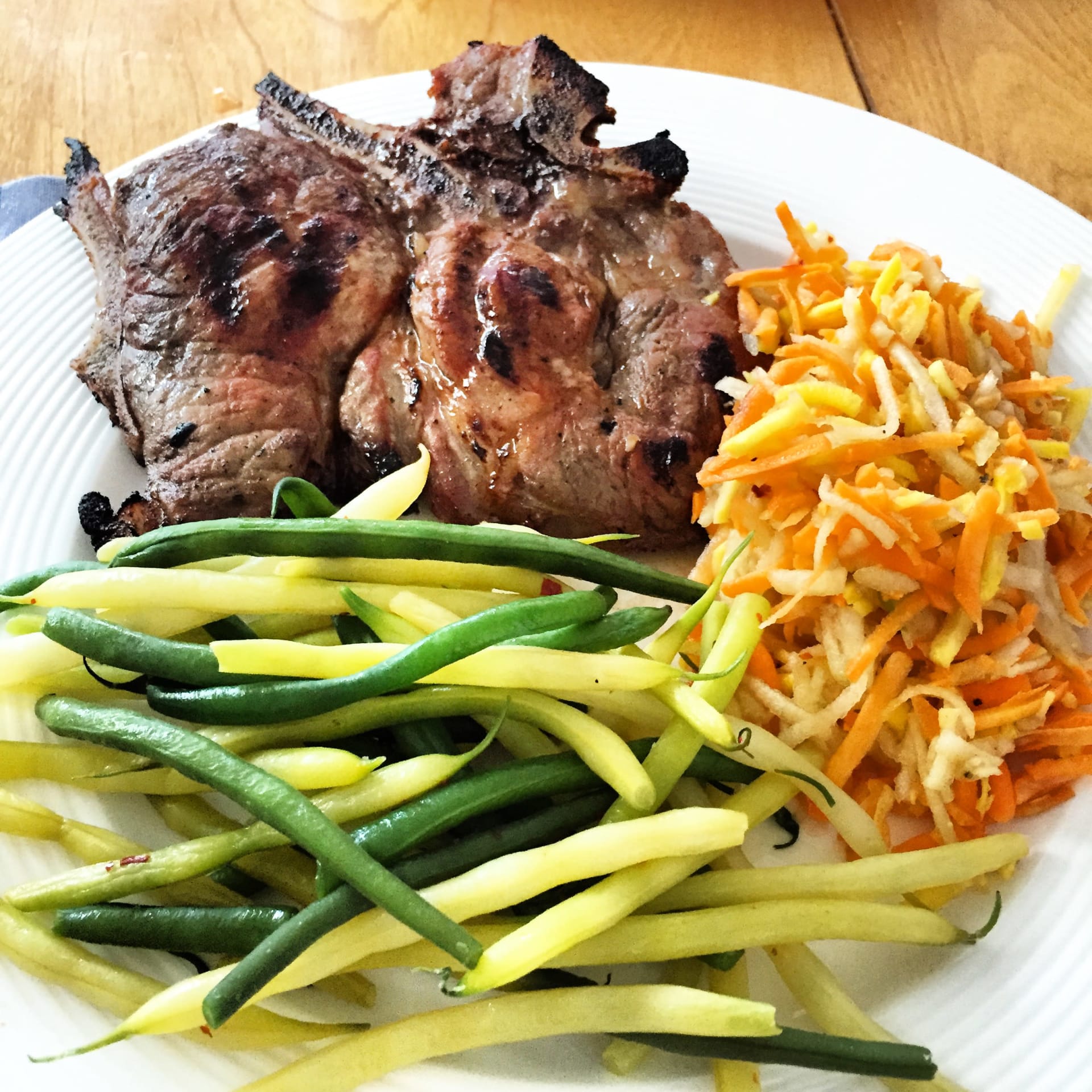 One of the most exciting parts of summer is the abundance of fresh ingredients at the farmer's market. You know I
have a love affair with the farmer's market
at 14th and U St. Meals like this one are why..everything tastes better. It was one of the best Sunday meals I've had in a while. (thanks chef bobby!)
Habanero Marinated Pork Chops
INGREDIENTS
2 lemongrass stalks, tough outer layers removed
1 habanero chile, seeded, very finely chopped
2 garlic cloves, crushed
1/2 cup fresh orange juice
2 tablespoons fish sauce (such as nam pla or nuoc nam)
2 tablespoons light brown sugar
6 tablespoons unseasoned rice vinegar, divided
4 (1/2″-thick) bone-in pork chops
3 tablespoons olive oil, plus more for grill
Kosher salt, freshly ground pepper
PREPARATION
Using the back of a chef's knife, lightly smash lemongrass, then thinly slice. Combine lemongrass, chile, garlic, orange juice, fish sauce, brown sugar, and 4 tablespoons vinegar in a small bowl. Pour half of marinade into a large resealable plastic bag; reserve remaining marinade.
Prick pork chops all over with a fork and add to bag; seal and turn to coat. Let marinate at room temperature, turning occasionally, at least 30 minutes. We marinated the chops overnight and it added a ton of flavor.
Prepare grill for medium-high heat; oil grate. Remove pork chops from marinade and pat dry. Season with salt and pepper. Grill, turning occasionally, until charred and cooked through, 6–8 minutes. Transfer to a platter and let rest 5 minutes.
Carrot and Apple Slaw
INGREDIENTS
12 ounces carrots and *apples (preferably assorted colors), peeled, julienned (about 4 cups) *we used granny smith apples
2 tablespoons olive oil
1 tablespoons fresh lime juice
1 1/2 teaspoons sugar
1/2 teaspoons kosher salt plus more for seasoning
2 teaspoons red pepper flakes, stemmed
Freshly ground black pepper
PREPARATION
Toss carrots, oil, lime juice, sugar, 1/2 teaspoon salt, and red pepper flakes in a large bowl. Let marinate for 15 minutes, tossing occasionally. Season to taste with salt and pepper. Refrigerate for at least 30 minutes then serve.
Enjoy!
*both recipes from epicurious.com