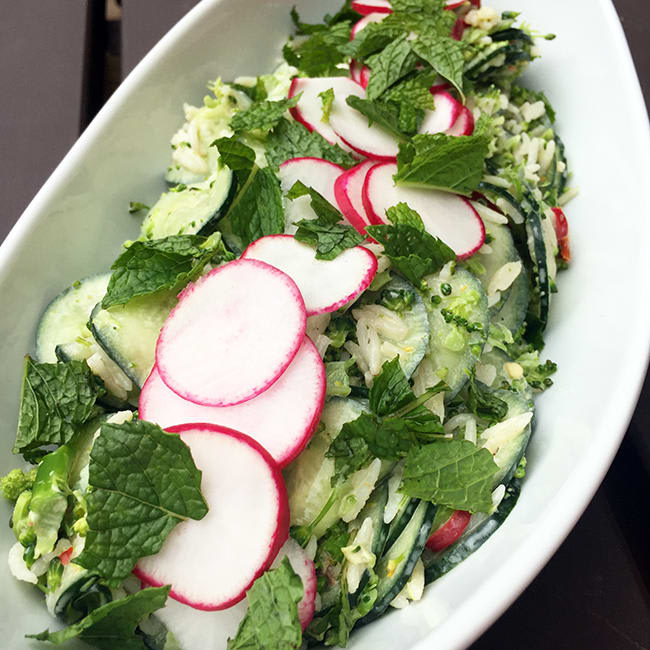 This salad seems simple but the layers of crunchy vegetables, the heat from the fresno chile and the refreshing flavor of mint makes it complex. I've been making this non-stop since I discovered the recipe in Bon Appétit. The original recipe has cracked farro but I'm gluten free these days (not by choice, trust me) so I subbed rice.
Ingredients
1/2 cup cooked and cooled jasmine rice
Kosher salt
1 large egg yolk
3 drained oil-packed anchovy fillets
2 tablespoons fresh lemon juice
2 tablespoons white wine vinegar
1/2 teaspoon sugar
1/4 teaspoon Dijon mustard
2 garlic cloves, peeled, divided
1/4 cup vegetable oil
6 tablespoons olive oil, divided
1 teaspoon dried oregano
Freshly ground black pepper
1/2 head of broccoli, stem peeled and trimmed, very thinly sliced lengthwise on a mandoline
1 Persian cucumber, sliced 1/4-inch thick
1 Fresno chiles, thinly sliced
1/4 cup oil-packed sun-dried tomatoes, chopped
1 cup mint leave
5 radishes, thinly sliced
2 ounces young Pecorino, shaved
Preparation
Blend egg yolk, anchovies, lemon juice, vinegar, sugar, mustard, and 1 garlic clove in a blender to combine. With motor running, gradually stream in vegetable oil and 4 Tbsp. olive oil and blend until dressing is emulsified and creamy, then add oregano. Season dressing with salt and pepper.
In a large bowl, toss broccoli and remaining 2 Tbsp. of olive oil. Add cucumber, chile, sun-dried tomatoes and rice. Drizzle with 1/4 cup of dressing and toss to coat; season with salt and pepper and add more dressing if desired. Add mint and toss again.
Serve salad topped with radishes and Pecorino.