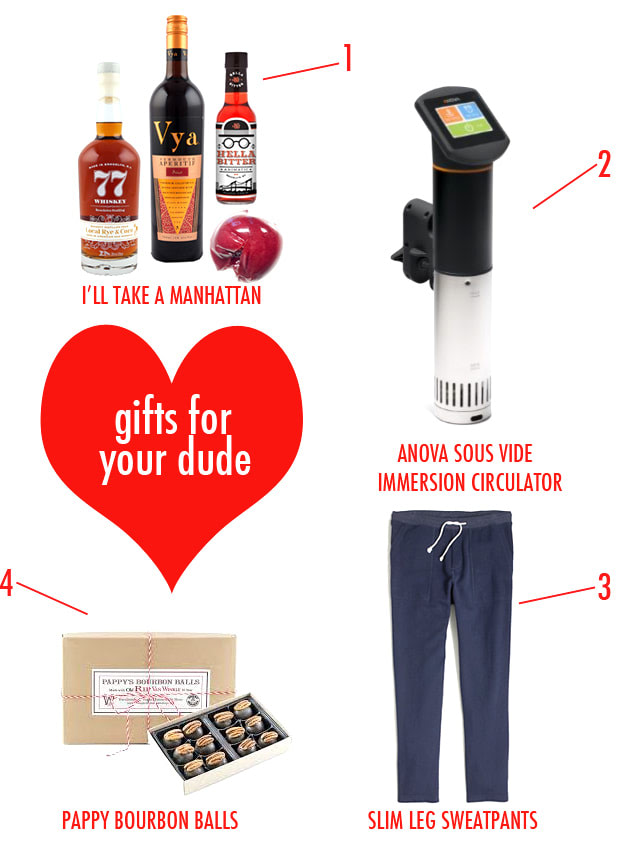 I know this is a laaattte post for Valentine's Day considering it's Saturday. Life has been crazy and I'm behind. Although every fellow is different, my guy would love any of these Valentine's Day gifts.
1.
I'll take a Manhattan
$120. Have you checked out the website
Mouth
? I'm kinda obsessed with it. It has small batch booze, fancy chocolates and spreads plus snacks. The
SNACKS
. For my husband, this Manhattan gift pack would be pretty cool. It's his latest cocktail craze and those cherries look yummy.
2.
Anova Sous Vide Immersion Circulator $299
. One of our friends contributed to the Kickstater fund for this bad boy and gave one to my husband for Christmas. He LOVES it. I thought it'd be one of those gadgets that he never uses but he pulls it out at least once a week. It cooks everything perfectly. If your guy likes to cook, this should be on his list.
3.
Slim leg sweatpants $49.50
. My husband works from home. His go to uniform is a pair of sweatpants and a t-shirt. I love this slim leg sweatpants because they don't look sloppy and they fit. I know many men prefer the "over sized" look but I don't. Surprisingly, my husband really likes his. The down side: a lot of jokes about "how tight they are on his manly calves." Um yea..that conversation happens regularly.