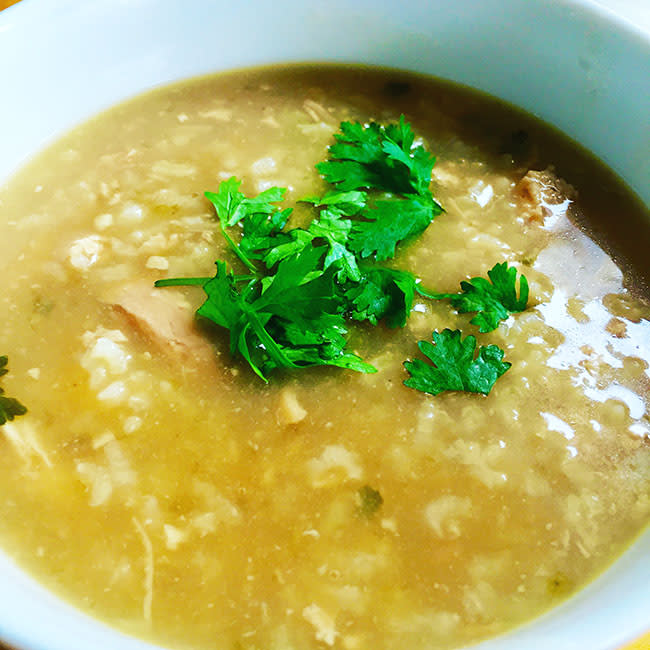 Last week, DC was grey and rainy which is perfect soup weather. When I saw this recipe in Bon Appétit's October issue, I immediately decided to try it. It was exactly as described: "a [flavorful] porridge-y, comforting soup". Yum!


Ingredients


2 skinless, boneless chicken breasts
1 4×4 piece of dried combo
1 2″ piece ginger, peeled and crushed
3 star anise pods
1 2″ cinnamon stick
2 whole cloves
4 cups chicken broth
1 cup glutinous (sticky) rice or sushi rice, rinsed
1 Tbsp or more fish sauce
1 tsp palm or light brown sugar
1 scallion, thinly sliced
1 jalapeño, thinly sliced
1/2 cup cilantro leaves
1/4 cup thinly sliced white onion


Preparation


Bring chicken, comb, ginger, star anise, cinnamon, cloves, stock and 2 cups of water to a simmer in a large pot over medium heat. Reduce heat to maintain a lower simmer and cook until chicken is tender. Transfer chicken to a plate.

Strain broth through a fine mesh sieve into a large bowl. Discard solids. Return broth to pot and add rice, fish sauce, and palm sugar. Bring to a simmer and cook until rice is very tender, 18-20 minutes. Shred chicken and return to pot. Season soup with more fish sauce.

Divide soup among bowls; top with scallion, jalapeño, cilantro and onion. (as you can see, I only went for the cilantro. my husband added pickled jalapeños, cilantro and scallion to his but it disappeared before I was able to take a photo!)