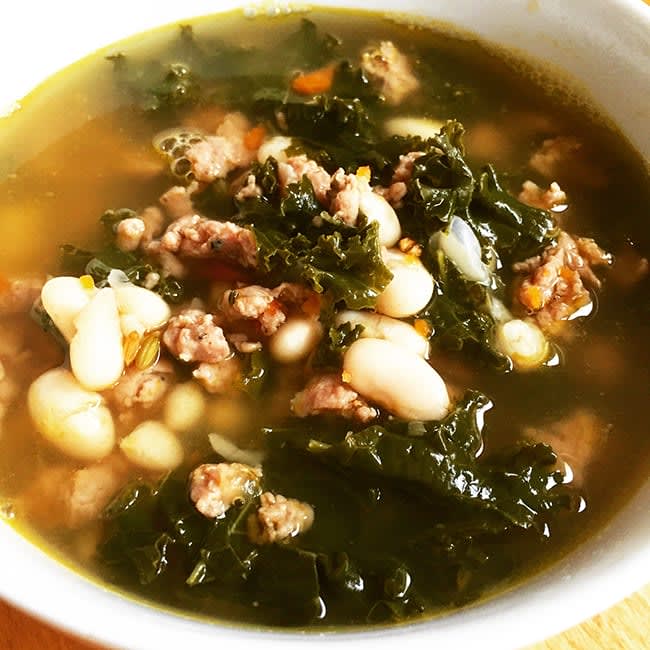 Yesterday's rainy, cold weather made me long for a bowl of soup. A couple weekends ago, I whipped up this white bean, kale and sausage soup. It was hearty and delicious. Enjoy!
KALE, SAUSAGE, & WHITE BEAN SOUP
Ingredients:
1 lb spicy italian sausage (I used turkey sausage)
1/2 cup yellow onion, chopped (I use a mini cusinart to chop the onion, garlic, carrots, & celery)
1 garlic clove finely minced
1/8 tsp red pepper flakes
1/2 cup chopped celery
1/2 cup chopped carrot
2 bay leaves
2 teaspoons dried thyme
1 can white beans
5 cups chicken stock
2 cups water
4 cups roughly chopped kale (I just do 4 big handfuls)
In a large pot or dutch oven, sauté the sausage until browned and cooked through, breaking into small chunks. Remove sausage from pan and let drain on a paper towel lined plate. Discard all but one tablespoon of oil. Sauté the onion in the remaining oil for 4-5 minutes until translucent. Add the garlic and red pepper flakes and cook about 1 minute. Add the celery and carrots and sauté until slightly softened, about 5 minutes. Season with bay leaf, thyme, salt & pepper. Stir white beans into pan. Cook for 3 minutes, stir, then cook another 3 minutes. Add the chicken stock and 2 cups of water to the pan, then bring to a boil. Reduce to a simmer and add in cooked sausage and the kale. Simmer for 20 minutes or until the kale is soft.