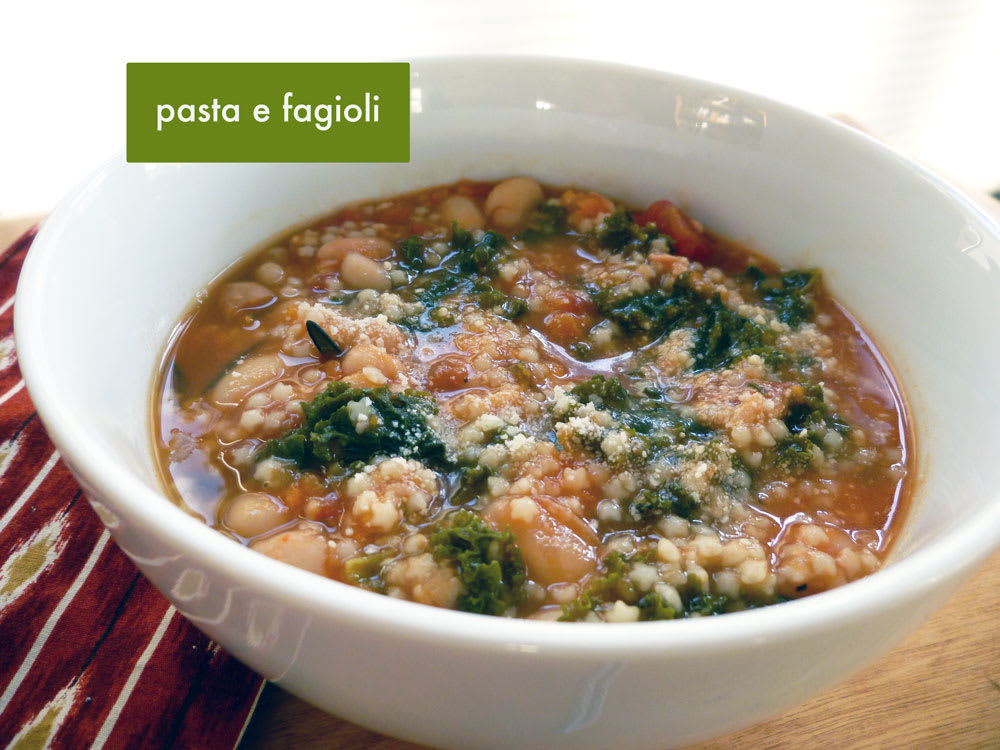 When I ran my parent's restaurant after college, my favorite part of the day was making the daily soup. I have fond memories of stirring big vats of customer favorites: pasta e fagioli, Aunt Erma's and Italian Wedding soup. Whenever the weather takes a turn for the worse, I always want a bowl of soup. This week I was craving pasta e fagioli. Enjoy!

pasta e fagioli
Ingredients
4 sprigs fresh thyme
1 large sprig fresh rosemary
1 bay leaf
1 tablespoon olive oil
1 tablespoon butter
1/2 cup chopped onion
1/2 cup chopped carrots
1 bunch fresh kale, chopped
3 ounces pancetta, chopped
2 teaspoons minced garlic
5 3/4 cups low sodium chicken broth
2 (14.5 ounce) cans cannelli beans, drained and rinsed
2 (14.5 ounce) cans diced tomatoes
1/4 cup pastina
freshly ground pepper
pinch red pepper flakes
1/3 cup freshly grated parmesan
salt to taste
preparation


Heat 1 tablespoon olive oil and butter in a heavy large saucepan over medium heat. Add the onion, pancetta, garlic and carrots. Saute until the onion is tender, about 3 minutes. Salt and pepper to taste. Add kale. Sautee 5 minutes. Add the broth, beans, herbs and red pepper flakes. Salt and pepper to taste. Cover and bring to a boil over high heat, then decrease the heat to medium and simmer until the vegetables are very tender, about 20 minutes. Add pastina and cheese. Simmer until pastina is al dente. Ladle into soup bowls and sprinkle with parmesan cheese. Bon appetit!


note: this is not the original Angotti's restaurant recipe. this recipe is adapted from the original.