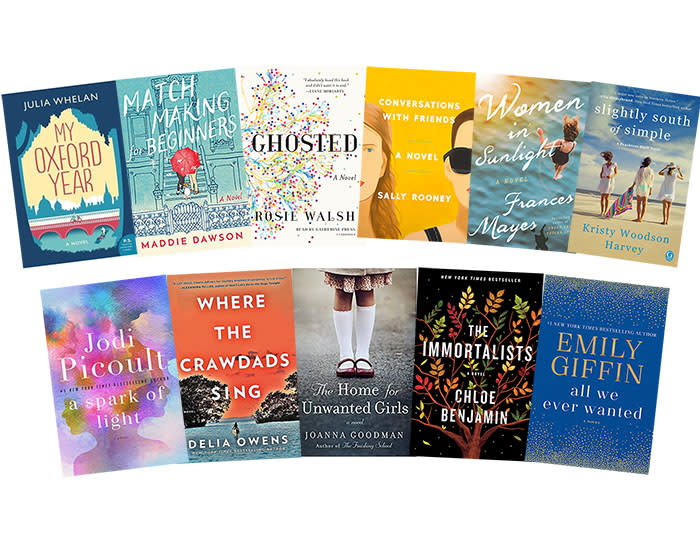 Anybody who knows me understands my nose is always in a book. This last month, distraction has been needed. (furlough + freezing temperatures=books and curling up on my couch.)


I only read fiction so this list will be divided into "light and fluffy" and "serious" books. What's the difference? "Light and fluffy" books tend to be romances and books that make me laugh.


"Serious" books are the ones that caught my attention because the plot or the writing (or both) enchanted me. I lost a day or stayed up all night reading these books because they were so engaging. Enjoy!


Light & Fluffy
My Oxford Year
by Julia Whelan. I was expecting a trite, coming-of-age abroad novel. It's not. It made me laugh. It made me cry. It made me think. All signs of a great read.
Matchmaking for Beginners
by Maddie Dawson. A smart, sassy romance. It's not the typical boy meets girl story. Instead, it's littered with amazing, quirky characters who teach the protagonist there's many ways to love.
Ghosted
by Rosie Walsh. This book was a page turner. I expected it to be a typical tale about a woman getting dumped. Instead, it's about life's unexpected turns.
Conversations with Friends
by Sally Rooney. I love the way Sally Rooney writes. This book is sharp and complex. One of my favorite reads of late.
Slightly South of Simple
by Kristy Woodson Harvey. Who doesn't enjoy a southern novel about complicated families? The first of the Peachtree Bluff Series, I whipped through this in one evening.
Women in Sunlight
by Frances May. The premise of this book was interesting: 3 ladies at the end of their lives rent a villa in Italy. (who doesn't want to do that?) It's worth reading for the descriptions of the meals and the day to day life in Italy. The rest: banal at best.
Serious
The Home for Unwanted Girls
by Joanna Goodman. This is not an easy read. It's raw and the subject matter will likely be disturbing for some. It's also fantastic and a tribute to a mother's love.
The Immortalists
by Chloe Benjamin. A beautifully written tale about four siblings. Tragic and glorious.
All We Ever Wanted
by Emily Griffin. Emily Griffin is one of my favorite authors because I immediately get sucked into the plot. Her latest is about the dangers and consequences of social media gone awry.
A Spark of Light
by Jodi Picoult. This book won't be for everyone. It's about a stand off at an abortion clinic. Controversial social issues, anyone? It's also compelling and well written. It will make you think and scare you. To me, that's a great book.
Where the Crawdads Sing
by Delia Owens. A poignant coming-of-age novel set in the marshes of North Carolina. A complex story that is amazingly well written.