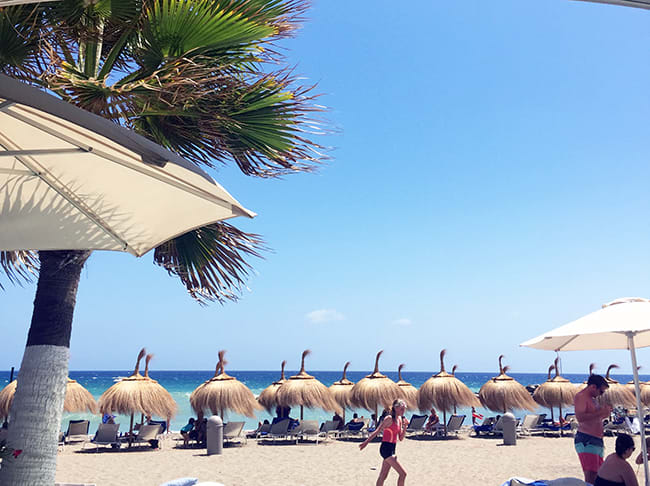 Marbella was everything I imagined: picturesque, sunny, and unbelievably fun. Spain has always been a special place for me and after an extended hiatus, I was ecstatic to be back.
My husband and I arrived a day earlier than the rest of the crew and spent the night at fancy hotel called the
Puente Romano
. It was uber luxurious and the people watching was fantastic. Everyone was super glam, decked out in the latest fashions and I could immediately see why Marbella is considered a playground for pretty people. We had a seaside lunch, drank a bottle of rosé, got massages and relaxed. Our flight to Spain was a total shit show (#deltasucks) and we needed pampering.
That evening, we went to Casco Antiguo or Old Town Marbella for dinner. It was charming. We wandered down cobblestone streets, poked around in a few shops and then had dinner at
Restaurante Marbella Patio
. It was the first of many fine meals.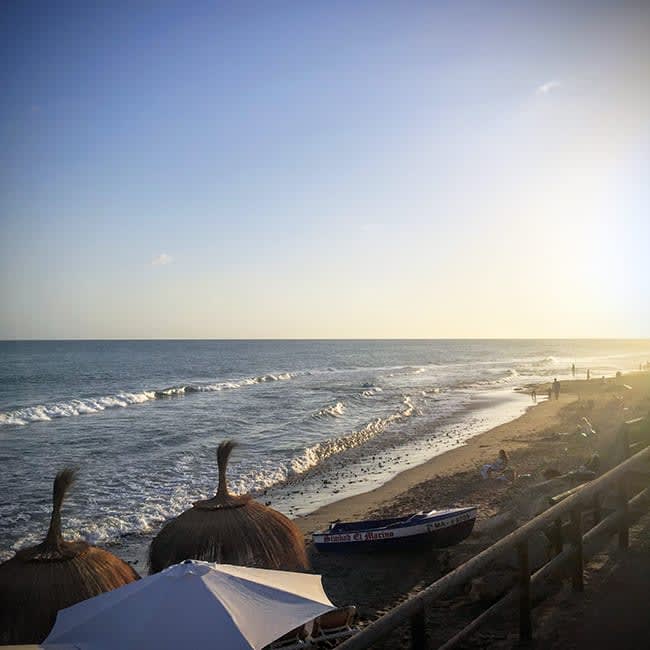 The next day, we were off to the house my friend rented. It was 15 minutes east of Puente Romano in an area called
Marbesa
. It's a neighborhood full of grand houses and twisty streets. The beach was a five minute walk from the house and it was gorgeous.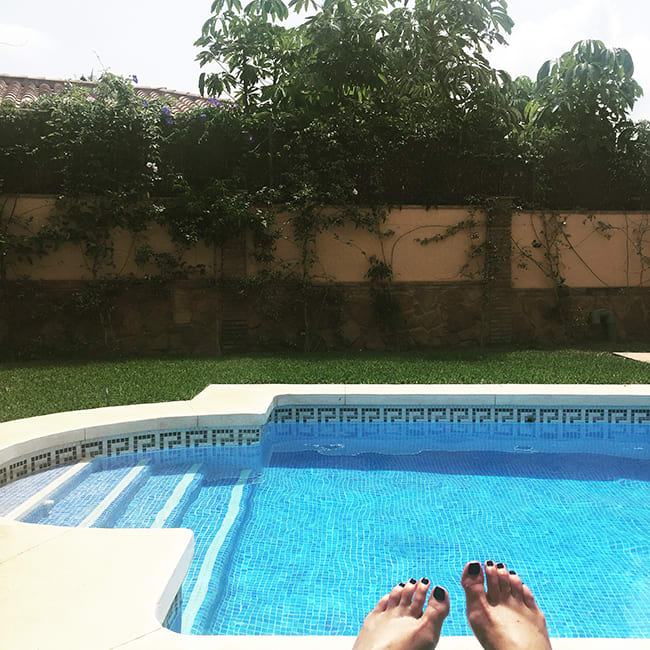 There were eight of us for most of the week and it was an international group. A couple of people were from London, there were a few Americans, and one is currently living in Toronto. The house was big, the beds were comfy and the pool was dynamite but the house had a few problems. The hot water heater broke on Sunday and the rest of the week there was no hot water. The wifi was intermittent and nobody could figure out how to work the TV's because the instructions were in Russian. It wasn't ideal but it certainly didn't ruin our fun.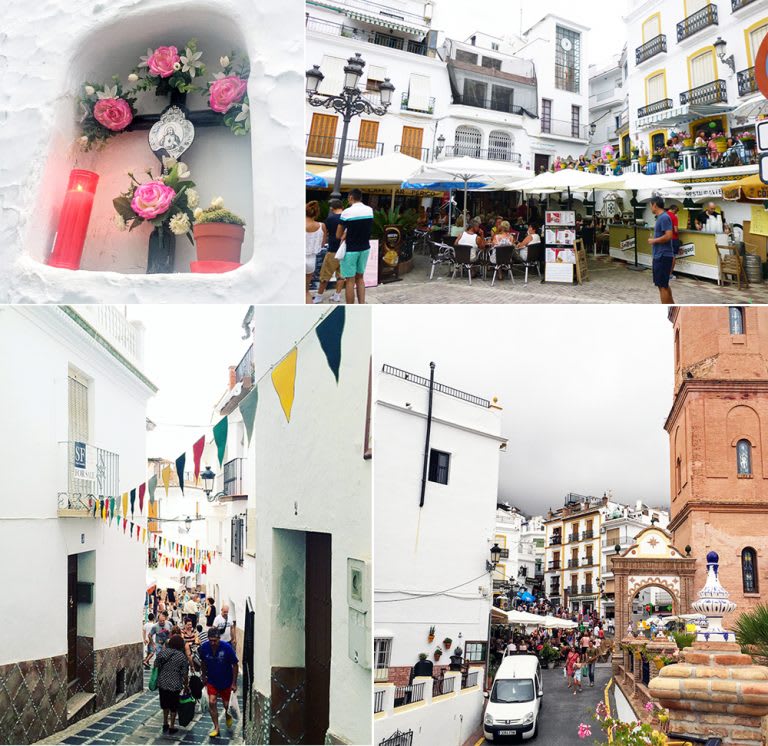 On Monday, we went to
Cómpeta
for the Noche del Vino. This is an annual event that pays tribute to the town's patron saint, Nuestra Señora de Asuncion. Traditionally, it's supposed to be a day of celebration before the harvest begins. It's an hour and a half away from Marbella in the mountains. Our group was on Spanish time the entire trip: stay up to at least 2-3am every night, get up by 11am, start moving by 1-2pm. By the time we arrived, we had missed the traditional events like the grape stomping. Instead, we got DJ's and loads of drunk people singing and dancing. It was hilarious and definitely not what we were expecting. After side stepping the drunken masses, we spent the remaining time exploring the tiny town.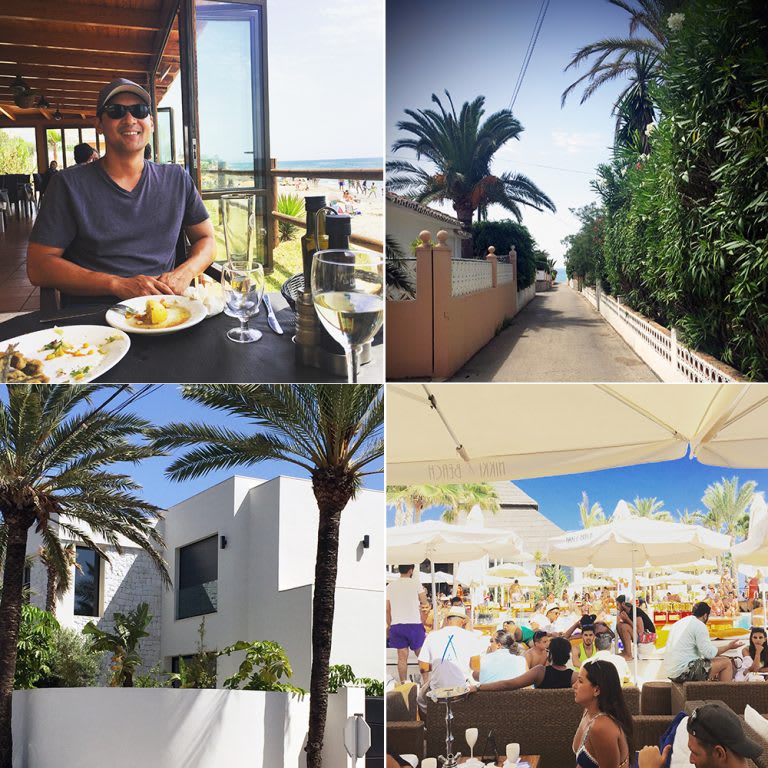 The rest of our visit was spent relaxing in and around Marbesa and Marbella. Part of the group was ambitious and took day trips to Granada and Sevilla. For us, that was too much time in the car and not enough time relaxing. We rented loungers under umbrellas and spent afternoons on the beach. We ate at the local
chiringuito
, a casual, beach side restaurant. We had an epic night out till 6am. We spent an afternoon at
Nikki Beach
, drinking, dancing and watching a bunch of
douche bags
fellows spray a case of Tattinger in the pool. We spent an evening in
Puerto Banús
and oogled the yachts. We drank tons of Spanish wine, ate loads of jamón and laughed a lot. It was an ideal vacation.
"The world is a book and those who do not travel read only one page" St. Augustine